As of today, the London lockdown is still not as strict as in other cities around the world but it is a lockdown nonetheless. The measures to fight coronavirus have imposed restrictions on travel, both internally and between countries, and therefore many places now look like scenes from an apocalyptic Hollywood film. Particularly in those areas where flocks of tourists usually cram every empty corner, the view is very much on the eerie side.
Like every sensible citizen, I'm self-isolating at home and only go out for the bare necessities. I keep my distance, sanitise my hands and items, shop groceries with disposable gloves, wear my [cool black ninja] mask… Everything I can to stop the spread.
But I'm a photographer and I miss going out to take my pictures. Not necessarily hosting my events or shoot with other people (both parts of my business disrupted by the outbreak), but the simple act of going out with my camera and capture a scene. I'm fortunate to have a garden that is regularly visited by small animals, so I can take photographs of them. I'm also experimenting with macro, with different editing techniques, etc. But I miss the city streets and architecture.
A morning out
Full disclosure (because these days you have to): I took all these photos on March 19, before the Prime Minister announced the official lockdown with the shops closures, etc. I haven't been out since, except the Monday mornings I go to my local supermarket (at sunrise, obviously lol) and a couple walks in the park behind my house.
But I did go out this one morning just before the lockdown announcement, and already London looked sad and abandoned. Some areas at least (more on this later). The shops were not all closed yet but they were completely empty: just 1 or 2 members of staff with nothing to do but look at their phones.
The weather was also pretty grim, contributing to the eerie feeling.
The following photos are my document of a morning walk around (no public transports, over 25K steps).
The (almost) London lockdown in pictures.
Photos are available for editorial use upon request.
7:45am – County Hall
8:00am – London Eye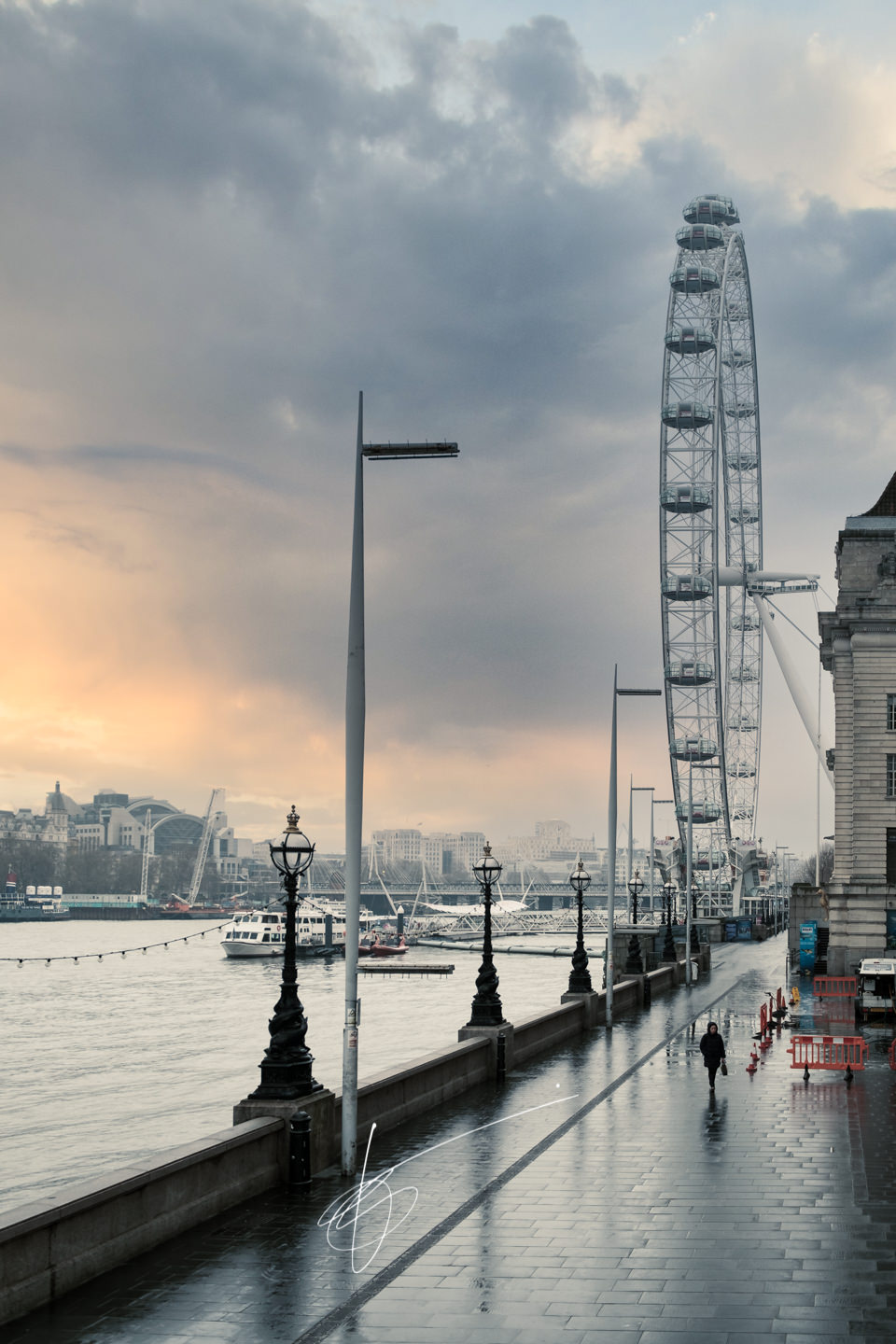 8:10am – Westminster Pier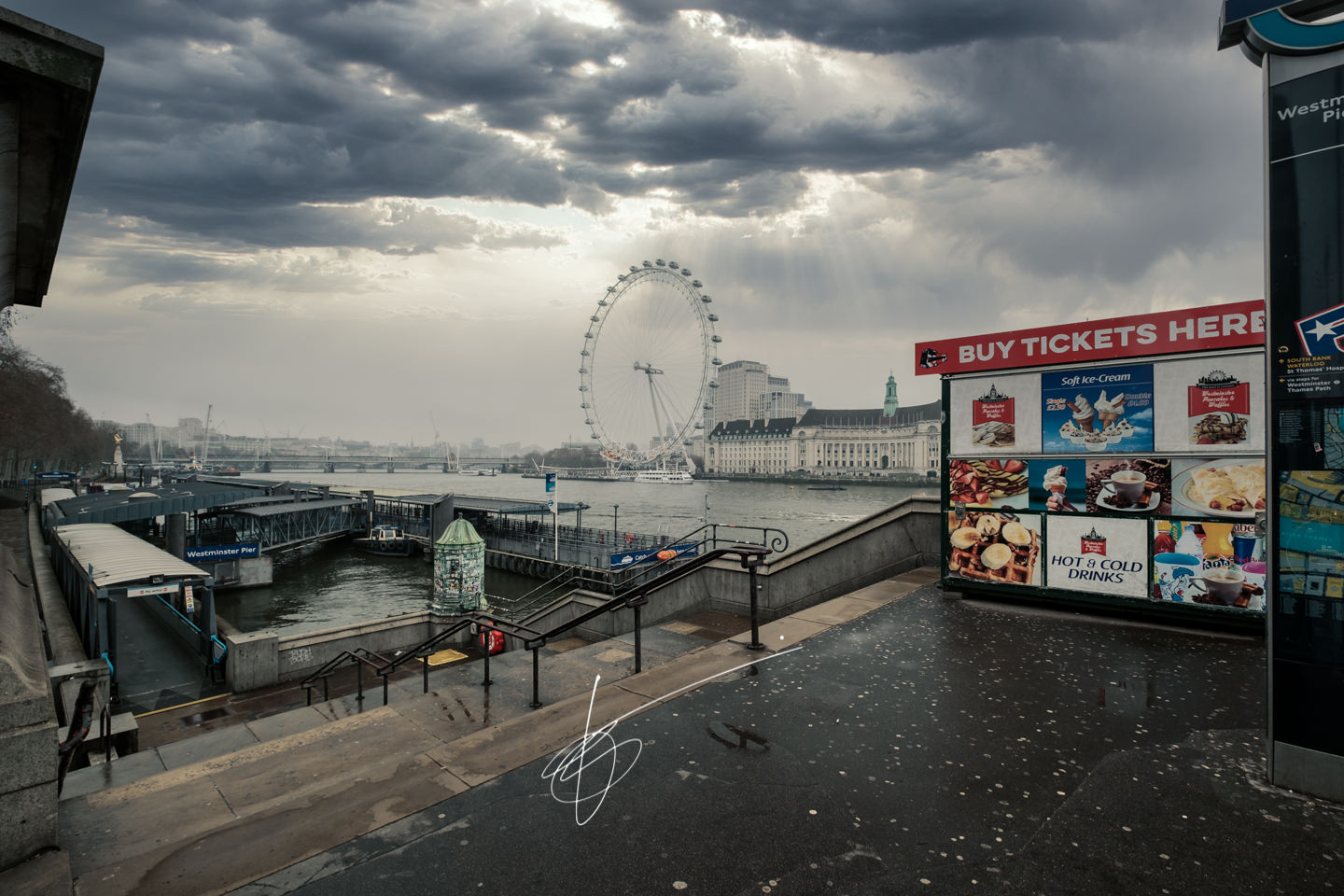 8:30am – Trafalgar Square
The photo at the beginning of this post is also taken from here, about 10 minutes later.
9:00am – Piccadilly Circus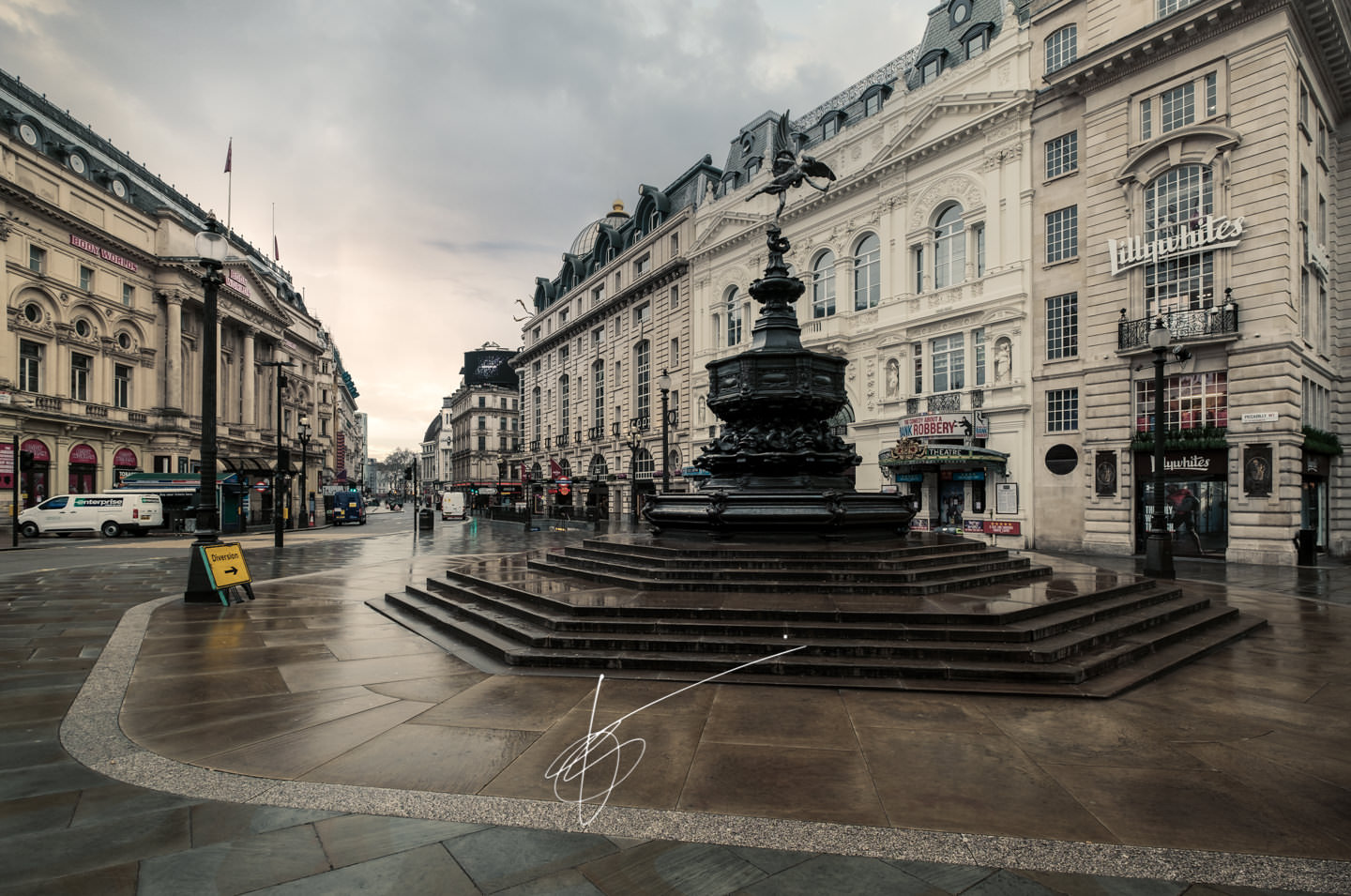 9:10am – Piccadilly Tube station
9:20am – Regent Street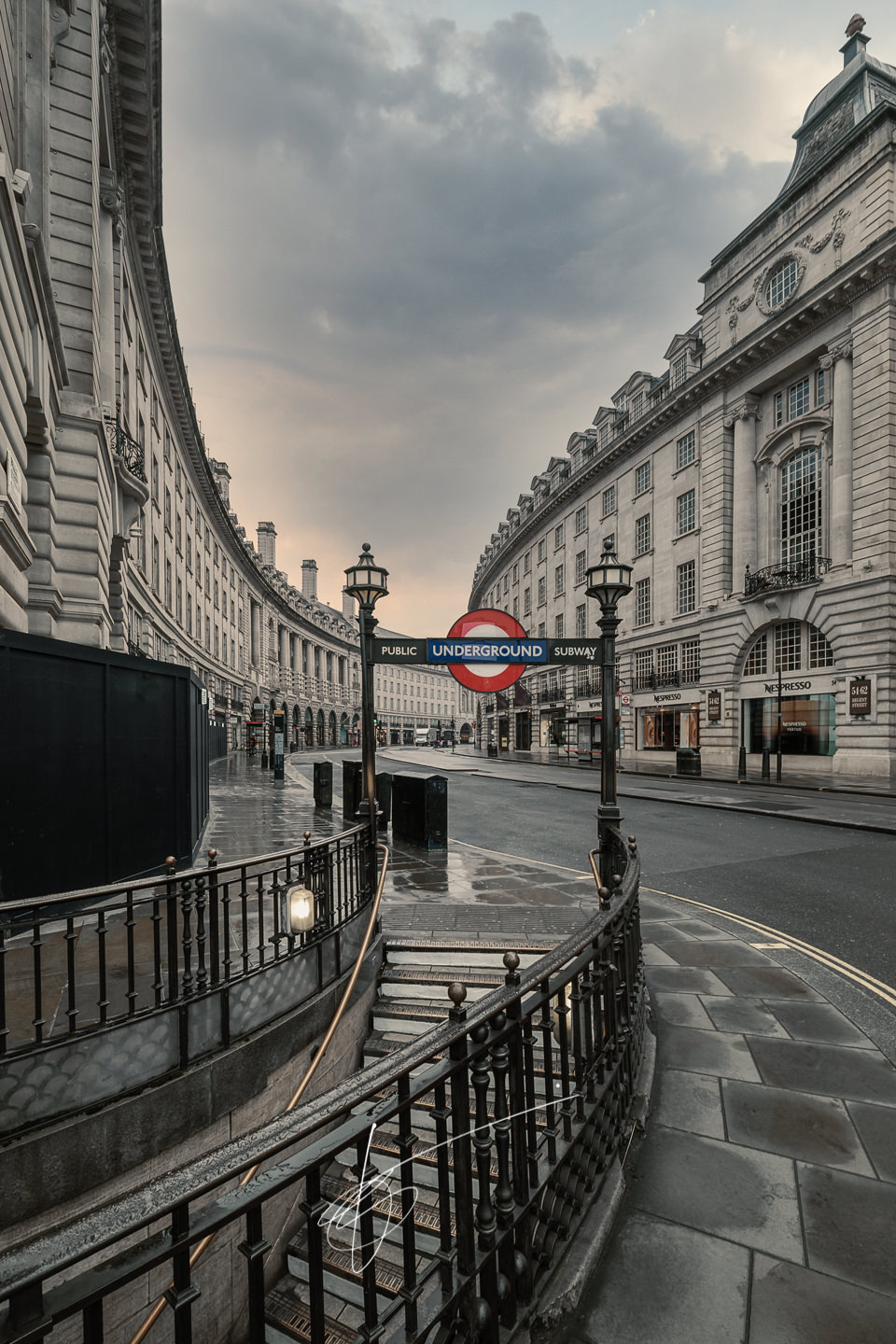 9:50am – Apple Store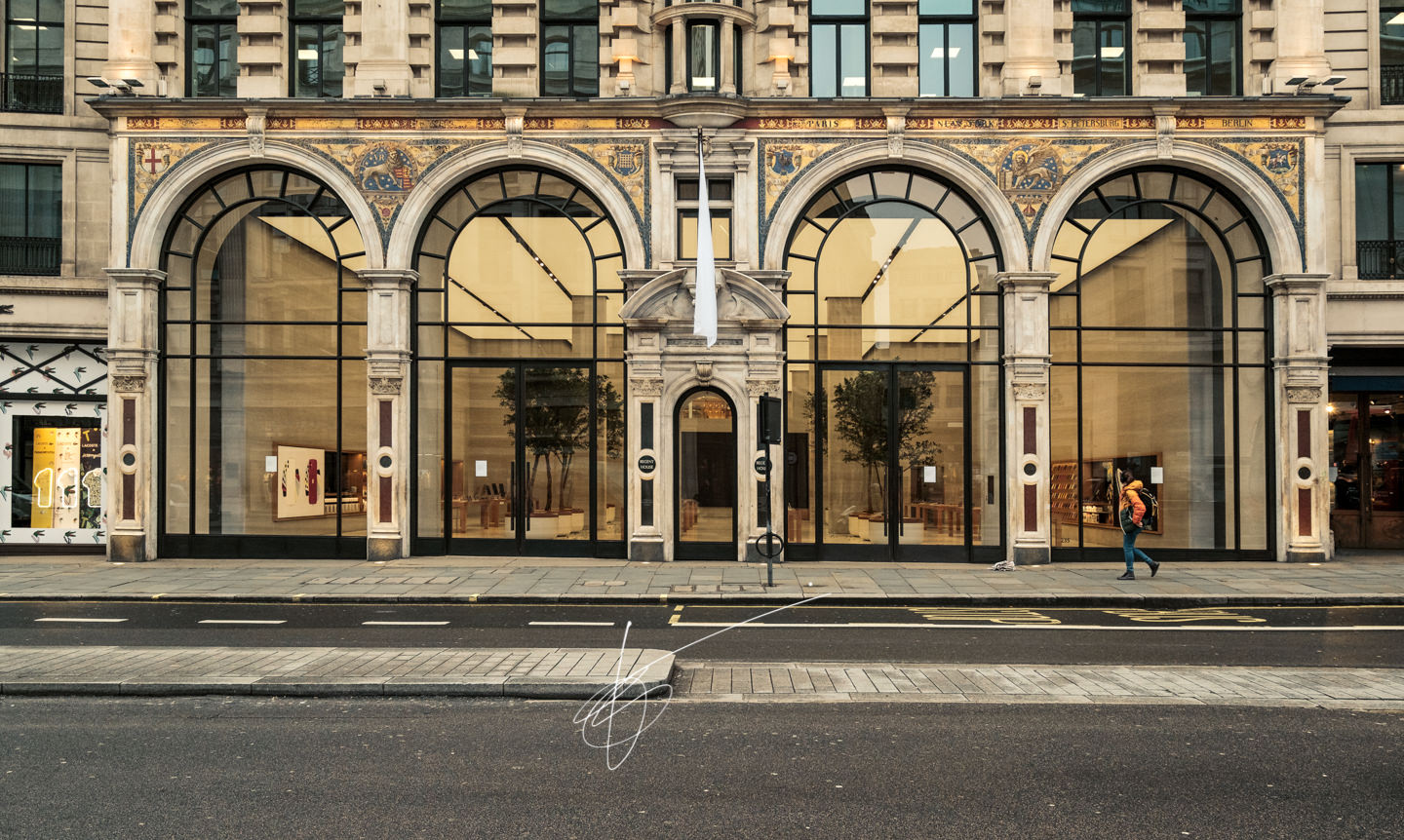 10:00am – Oxford Circus
Probably the busiest crossroad in London. Used to have so much traffic that it was once declared uninhabitable and queues outside of the Tube station were not uncommon at peak hours.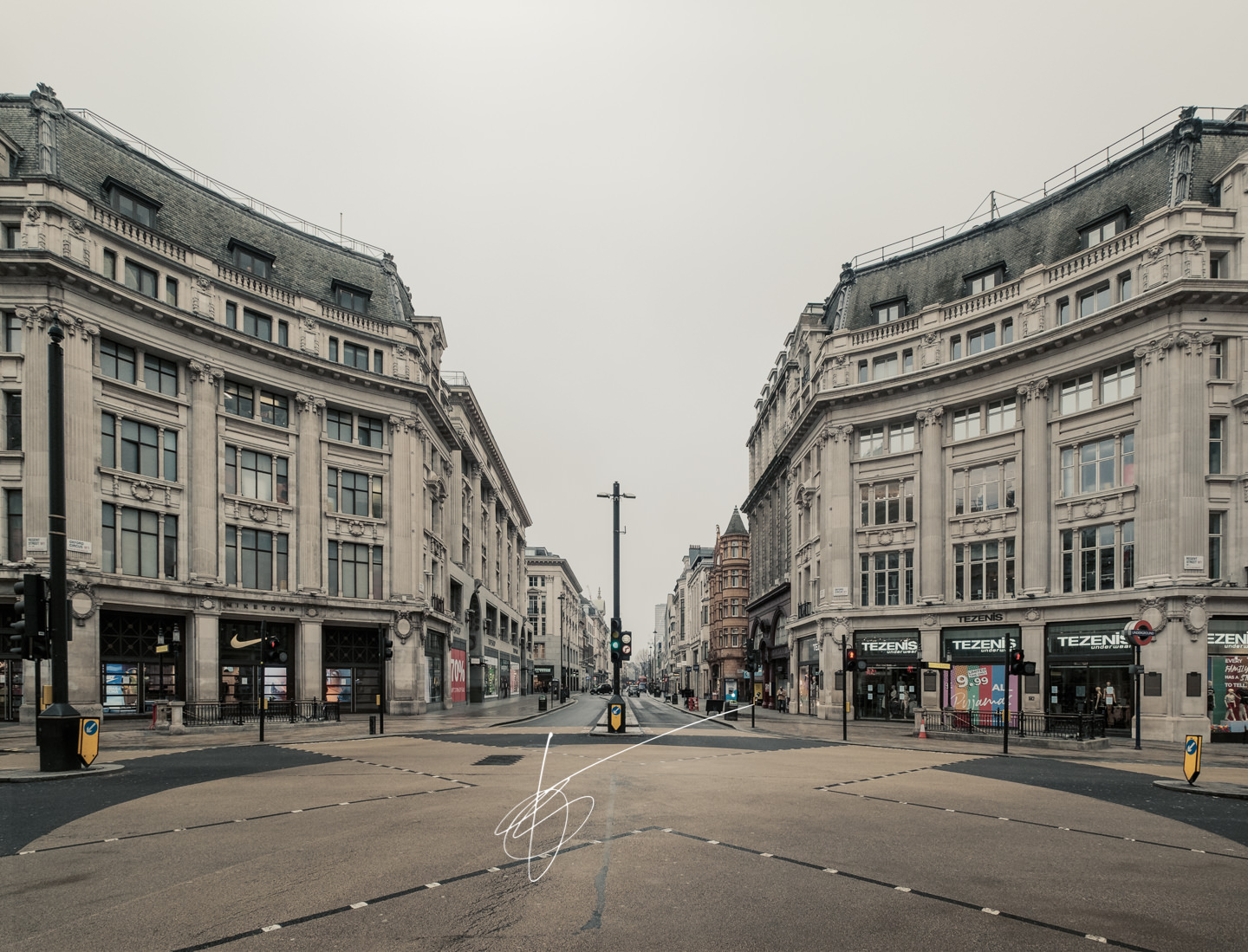 10:30am – Chinatown
This area has constantly been in every street photographer's list for there was always the opportunity to take a photo of somebody interesting…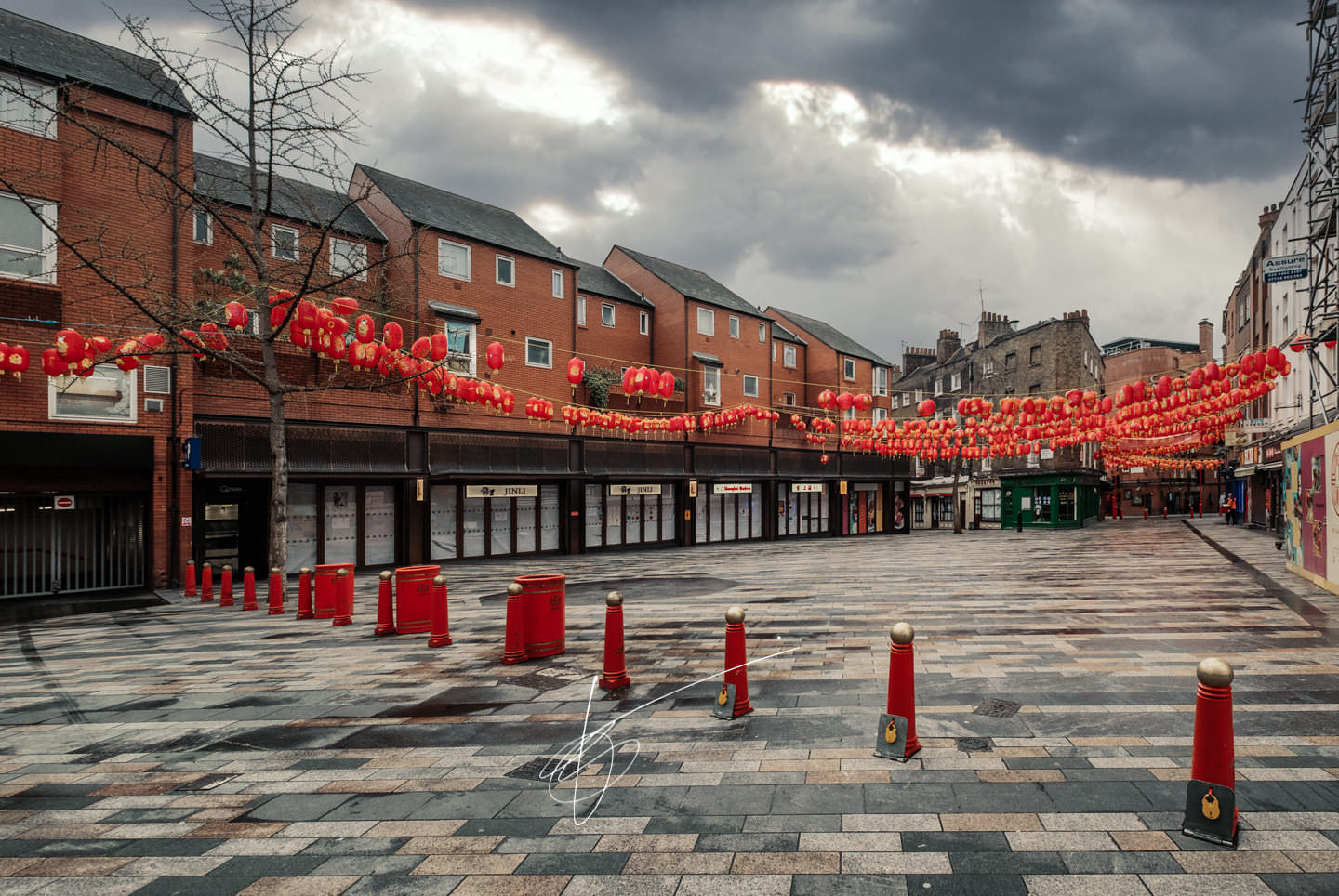 10:50am – Covent Garden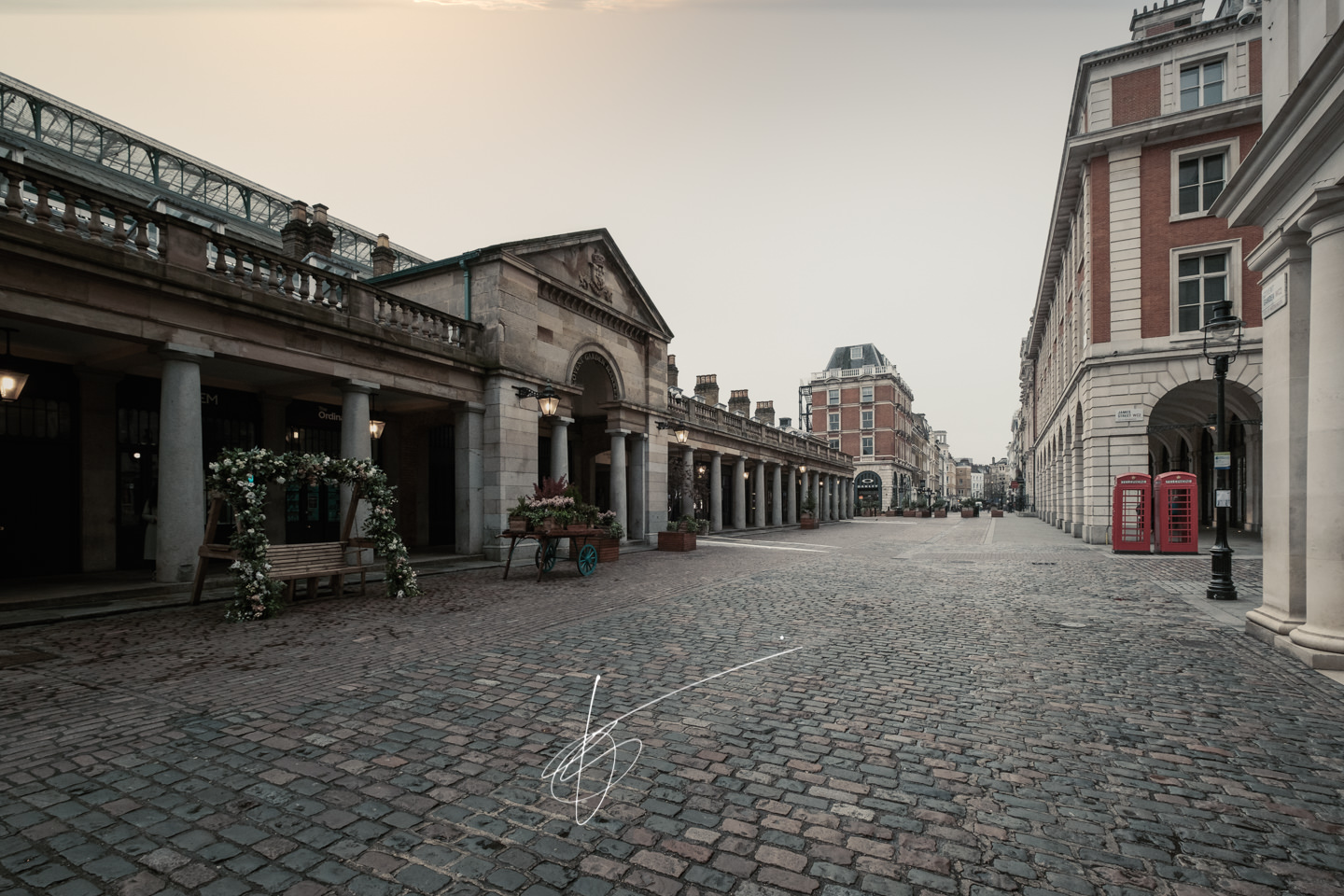 11:30am – St Paul's Cathedral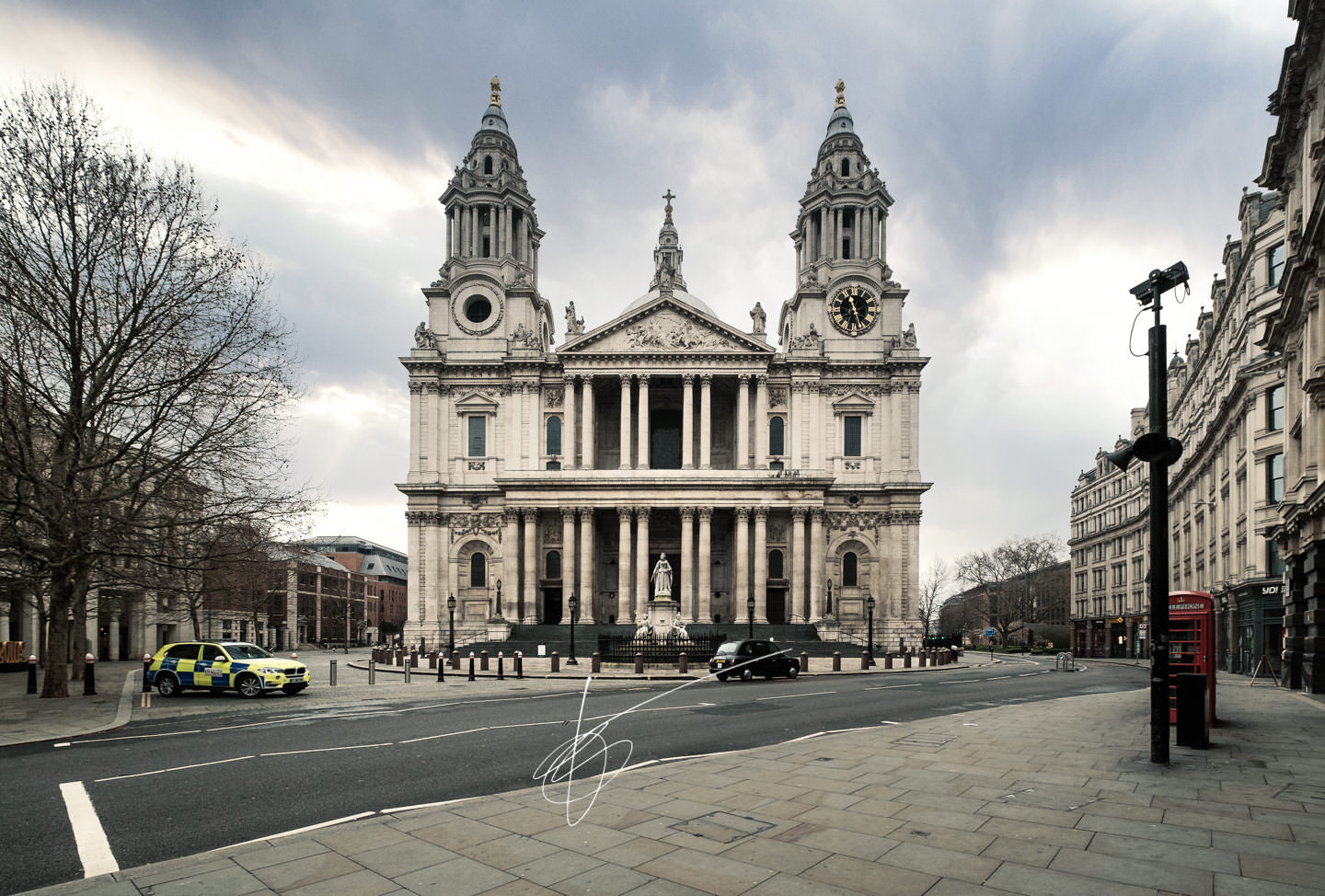 12:00pm – Bank
I worked in the glass building to the left for 2 years so I know this area pretty well. And frankly the biggest impact to me here was the absolute lack of noise. It was silent everywhere, of course. But I know exactly how this place sounds any time of the day and this morning was so strange. Hope it makes sense.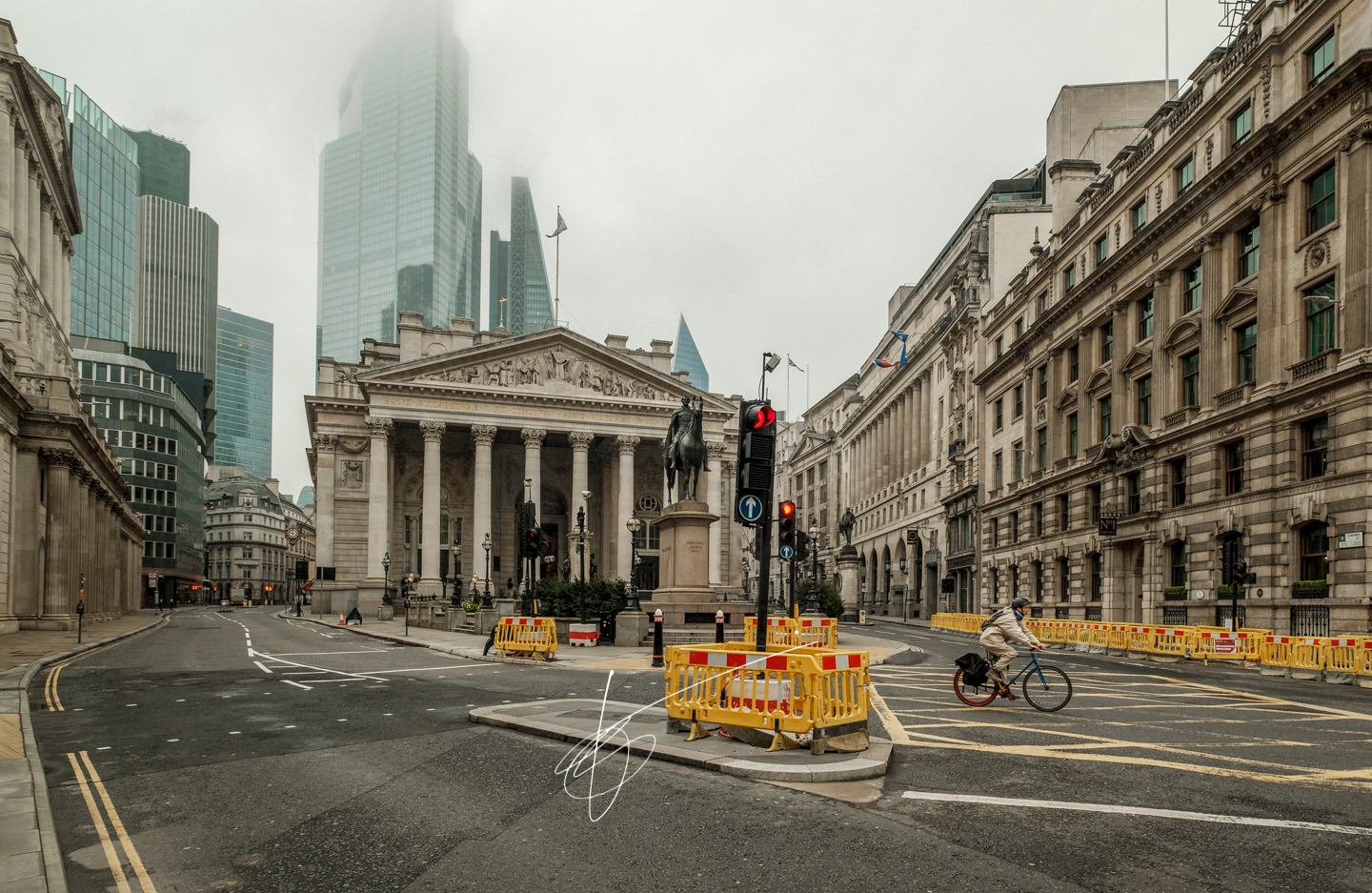 From here I started to walk back home.
I passed London Bridge, Borough Market and Southwark but I didn't take any photos there because there the streets were busier and I was more focused on keeping a safe distance from everyone. To a certain extent, I found the larger number of people scarier than the empty streets.
London lockdown. Editing and gear
I shot all the photos with my Fujifilm X-T2 (waiting for the delivery of the X-T4) and the Fujinon XF 10-24mm F/4 lens using the Classic Chrome film simulation.
I took it to Adobe Lightroom for some basic adjustments and to Adobe Photoshop to remove unwanted distractions and clean the images. More evidently, I used Luminar 4 to replace the sky in most photos because it was an unappealing pure white wall for most of my time out. It was good to capture everything because I didn't have to adjust for harsh lights and shadows as there were none, but in some of the photos I felt the need to add clouds in post.
To be honest, it's something I never do in my photos. But I'm abiding by the rules of the lockdown and therefore I cannot go back out to take these photos. So I gave myself the freedom for some extra editing.
---
These are tough times for everybody. Always be safe, #stayhome, protect yourself and the people around you.
With all that is happening, I am extremely grateful that you have taken the time to spend a few minutes here with me.
I see you all next time.