I missed last week's appointment. With all that is happening in the world right now, I thought you all had better to do than read my stories. But some of you reached out asking about the newsletter, and it seems that light content like this can provide some relief. I'm glad.
So here it is.
Peer support group on Slack
First of all, one important update. I started a peer support group for photographers and videographers. We all had our jobs disrupted, and most are facing overnight cancellations. Events, weddings, corporate shots and workshops (like mine) are simply not happening right now.
This is affecting everybody, so I thought about creating a space where we could talk, find mutual support and possibly brainstorm ideas to get through it and restart stronger when it's all over.
It's an initiative that had great initial feedback with brands like Leica and Fujifilm already showing interest and support.
If you want to know more about it and sign up, just head here (and please share).
Update: the group is now closed.
And now, let's talk about this new story… We're all staying at home, so here's something to let your mind travel.
Caucasus
I visited Georgia (the country, not the American state) almost a year ago. My initial plan was to visit Georgia, Armenia and Azerbaijan together but in the end I fell so in love with the Georgian landscape that I decided to stay here for 10 days. I spent 3 days in the capital, Tbilisi, and then travelled almost 3000km in the other 7 days.
Going from the once-a-desert area in the South East, to the vineyards in the central regions; from the Black Sea shores to the majestic mountains to the North and North West.
Two regions, in particular, are an absolute marvel. Svaneti and Tusheti. The latter is only accessible for 2-3 months in Summer via one of the most dangerous roads in the world.
Svaneti, on the other hand, is accessible all year round and has its own little airport as well. It is popular among hikers for its beautiful scenic paths and gorgeous landscape. It's a region with lots of history as well. Really fascinating.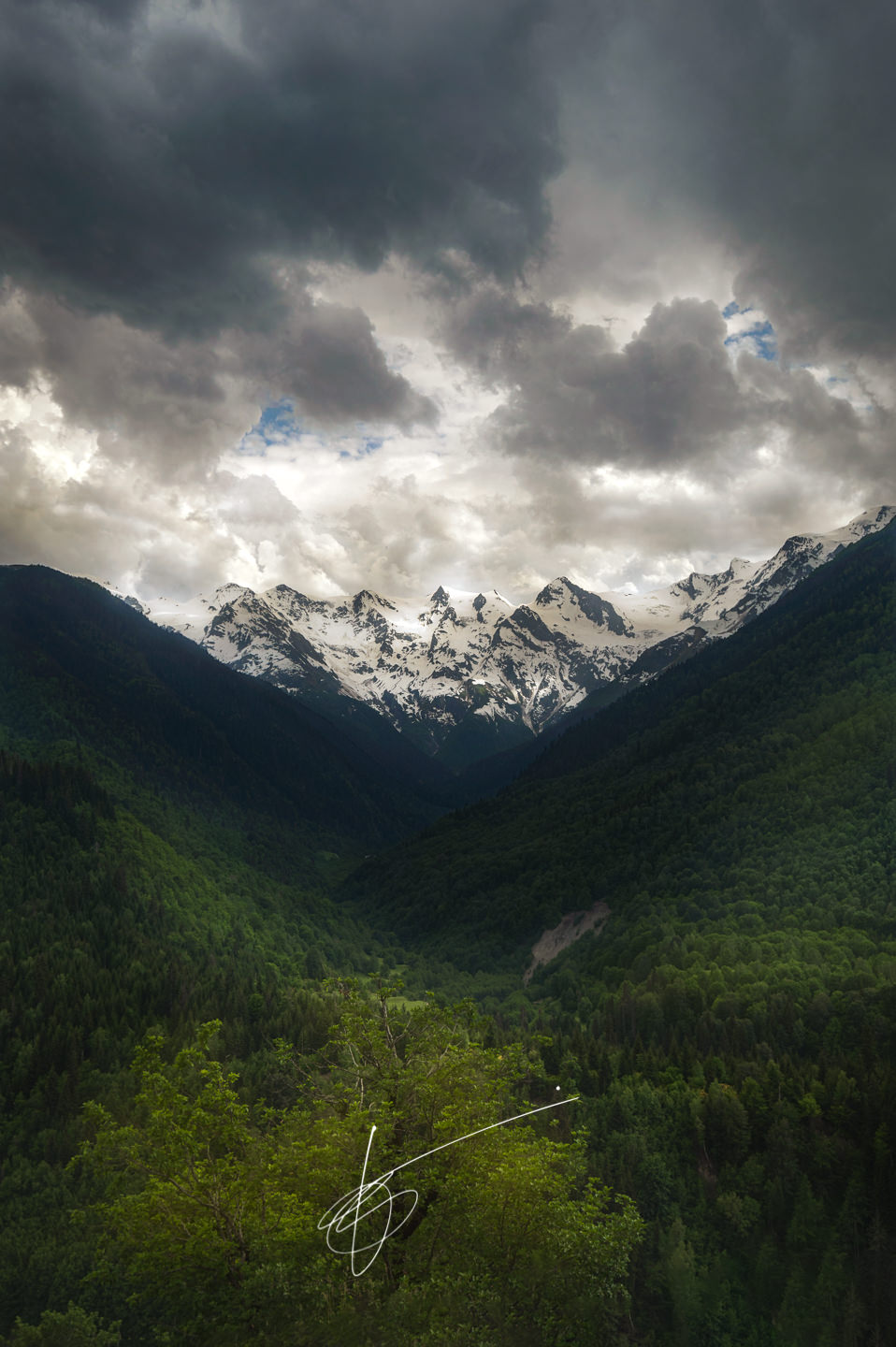 The shot
The road from Zugdidi to Mestia is the only one to access the region. It's a narrow road, often broken, that extends for over 130km and takes quite a long time.
Along the road, you can also see the second-highest concrete arch dam in the world, which was due to become a tourist attraction, but the works stopped (allegedly because of corruption). And you'll find yourself often stopping to take photos. Very often.
The weather is also everchanging. In the hours along the road, you can easily go from clear sunny skies to pouring rain and eventually get to the snow in Svaneti… While some may find this annoying, it can be a blessing for somebody on the hunt for a good photo.
And because you commonly see photos of perfect blue skies, a moody shot with menacing clouds broken by the sun struggling to get out can really stand out.
When I shoot the mountains, I usually take a minimalistic approach. It's the one time I favour a telephoto lens over a wide angle. In fact, I purchased the Fujinon XF 55-200mm for this specific trip, because I wanted a long focal length that was also very portable. This small lens achieves great results, as it's very often the case with Fuji lenses.
This choice is my way of highlighting the mountain itself, removing most of the distractions that would enter the frame with a wide angle. If I were to depict a whole scene, maybe to show how big are the mountains surrounding the small villages at their feet, then yes, a wide angle would be the lens to go. But here, it's all about the mountains and their immediate surroundings with the menacing clouds.
Editing and gear
There's very little editing to this photo. I wanted to accentuate the clouds even more, so I used Photoshop's Dodge and Burn tools to add more moodiness. I do it slightly differently than most tutorials, as I separate the effect into 2 transparent layers with 2 different blending modes (overlay for the dodge layer and soft light for the burn one). I can write or record a tutorial if you're interested. Let me know.
Update: I filmed the tutorial for my YouTube channel, so now you can watch it here.
The extra touch is a bit of yellow to the tree in the foreground to complement the blues in the background. I added a Fill Color adjustment layer and masked the area I needed with a soft brush.
As per the gear, here's the list:
By the way, Adobe is currently giving everyone 2 months of free Creative Cloud. Worth looking for it if you haven't already activated the offer 😉
And that's it for episode 4!
Thank you all.
And stay safe.
Post Scriptum
You're reading this story in my blog, and that's great. But if you were to subscribe to my newsletter and receive it in your inbox, you would also get a discount code for my store and several other exclusive perks. So check the box in the sidebar or click here to get all that 😉