I talked about the recent photowalk in Oxford with other fellow photographers in this post.
It was a fun day. And I managed to try a few new things with my photography, including setting my camera display in black and white to focus more on shape and contrast.
During the photowalk, I took a few shots I was pleased with. Many of them not too dissimilar from my usual street style, with really deep dark shadows and high contrast.
But among them, I also shot one single street portrait of a man walking towards me…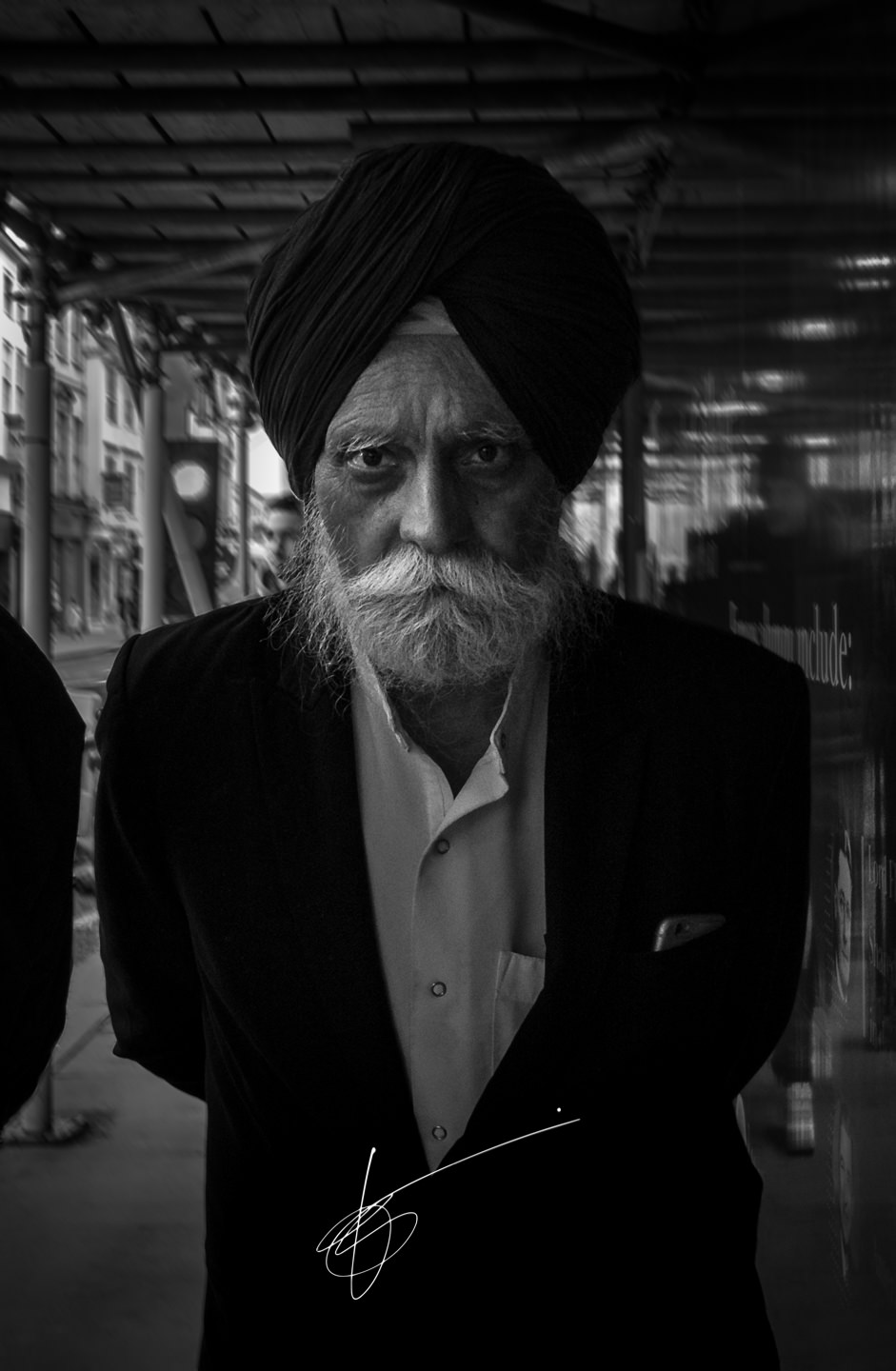 In the street
I'm not used to shoot portraits in the street. I like seeing this kind of photos and I admire those photographers who can pull them off successfully. But I don't feel at ease going too close to people, mostly because I don't want to invade their personal space.
Some (in)famous photographers do it and manage to make it a success (best example is Bruce Gilden), but it's quite controversial.
It's not something I look for when in the street with my Fuji X-T2. But this time something clicked (pun intended).
There was a construction site on the main street and people were forced to walk in a single line through a temporary tunnel. I was second in line behind another photographer and saw this figure entering the tunnel from the other side, walking towards us.
The shot
I almost always hold my camera in one hand with the Peak Design clutch strap (don't like neck straps) so I switch it on with one finger and quickly raise the ISO (thanks Fujifilm for the external dials!). Then I glance at the screen and decide I'm happy with the settings. I use a semi-manual focus (back button) so I prefocus to the back of the photographer in front of me.
I have a narrow window to get it right.
While approaching, I raise my camera to eye level, hoping to get a candid shot. It's a 50/50 situation: either my mate gives way and I get the shot or the man moves and I miss my opportunity.
And I see my mate making a step to the left…
That's it! As soon as I have a clear view I start snapping photos using the camera burst mode. Wouldn't want to be too much of an annoyance to this person and need to give way too, so I take 4-5 rapid-fire shots and move.
I don't even have time to see what's happening because it's crowded and I don't want to make everybody stop. Tried to smile at the man, but I don't even know if he noticed me at all because the line was moving fast.
When out of the tunnel I chimp at my camera screen… And I think I got him! Not only that: he was looking straight into my lens!
That's fantastic. But then is he perfectly in focus? We were all walking and the action was pretty quick… It looks OK on screen but I'll have to wait to see it on my computer.
Well, here you can see how it went 😉
Gear
You may already know, and I mentioned it, that I always shoot with a Fujifilm X-T2. My main lens when I shoot street photography is the 35mm f/2 but this time I had the 23mm f/2 on.
Both are small and very discreet and I chose these over their f/1.4 versions for this very reason. And also because they're weather-sealed.
Now, the X-T4 has been announced, so there's going to be an upgrade soon…
Adobe Lightroom
I know the street photography police will be horrified now: there is some editing involved here.
Nothing too extreme though. But this is a photo that would have benefitted a lot from shooting with an external flash and I didn't have that at hand. Most of the light was coming from behind the man and we were in a pedestrian tunnel. His face was very much in the shade.
So I had to lift the shadows in the man's face in post-production. I opened the photo in Lightroom and used a radial adjustment for some global refinements. Then a bit of Dodge with the brush for an extra subtle touch.
I did not distort reality, I mainly did what in the past used to be done in the dark room.
If I were to modify the image in Photoshop, I would have probably changed the background. It's just too busy for my taste and there's still the arm of my mate to the left.
But hopefully the man's face captures your attention so you don't really notice anything else 😉
A request (long shot)
As it all happened pretty quickly, I didn't stop to talk with the man. And that's a shame.
I would be glad to get in touch with him and send him this photo as a print, if he so agrees. Anybody who happens to recognise him, please send him to this post.
I will also try to reach out to Oxford's city council.
Thanks!
---
I hope you enjoyed this second episode of The Story Behind The Shot and I would love to hear your feedback.
This is becoming a regular thing, and I'll look at some of my most popular photos to talk about the story behind them.
The Story Behind The Shot is a fortnight publication.
Make sure to subscribe to the newsletter so you won't miss any episodes.
You can do it here.
Cheers!