Back with a Story Behind The Shot with Jökulsárlón, and also back in time. I shot this some years ago in a touristless Iceland, with a then-brand-new iPhone 6 Plus. That's right, no fancy camera, just what was always in my pocket.
The Story Behind The Shot is a column I regularly send to all the newsletter subscribers. It might soon become exclusive email content. So if you don't want to miss the next episodes, consider subscribing here.
Iceland
As I mentioned in my post about how Fujifilm got me back into Photography, I visited Iceland in 2014.
Only a few years have passed, but then it was a very different country. I mean that it was not yet on everyone's bucket list.
In fact, my friend and I spent 10 days on the road and only met a handful of human beings: our glacier guide with 2 other adventurers, photographer Lorenzo Montezemolo (he's amazing and a very nice guy), and the farmer who pointed a rifle at my face (terrifying!).
It was peaceful and beautiful, one of the most beautiful countries I have ever visited. Only just over a year later, it was pictured everywhere: every ad campaign, every Instagram account (#instarepeat of yellow rain jackets next to waterfalls), every YouTuber… One could almost grow bored of it. Well, except you can't because it's still gorgeous, but you get my point. Mass tourism is never pretty.
But I digress…
Vatnajökull and Jökulsárlón
Because of the many photos of Iceland on social media or because you watched Game Of Thrones, you already know the Vatnajökull glacier. Unfortunately, climate change is eating up most of it at a fast pace, but it still remains the largest ice cap in Europe. The melting ice of the glacier made it recede from the edge of the Atlantic Ocean and a lake (or lagoon) formed on its Southeastern border: Jökulsárlón.
The lake has grown since then at varying rates because of the melting of the glaciers, fourfold since the Seventies, to almost 20km2.
The scene there is always incredible. The ever-changing design of the lake is almost mesmerising. And the silence can be surreal, only broken at times by massive chunks of ice diving into the water. If you're fortunate and find yourself there on a sunny day, the colours in the sky are also magic.
I suppose there's a reason why so many people visit Iceland every year… With the Northern Lights, of course, though you may be better off in Norway for that.
The Shot
Now, if you haven't read the post I mentioned earlier, it might come as a surprise to you that I did not have a camera when I went to Iceland. But this didn't stop me from taking photos, and plenty of them.
I had ditched my Nikon DSLR equipment because I felt it had become cumbersome and was standing in the way of my photography. Here I was in the middle of my "iPhoneography" period, shooting only with my iPhone. And when I departed for Iceland, the iPhone 6 Plus had only been released 2 days before, with some huge improvements to the lenses and software.
It was not all perfect: in a country with the Northern Lights, an iPhone was not the best device to shoot at night. But in daylight… amazing.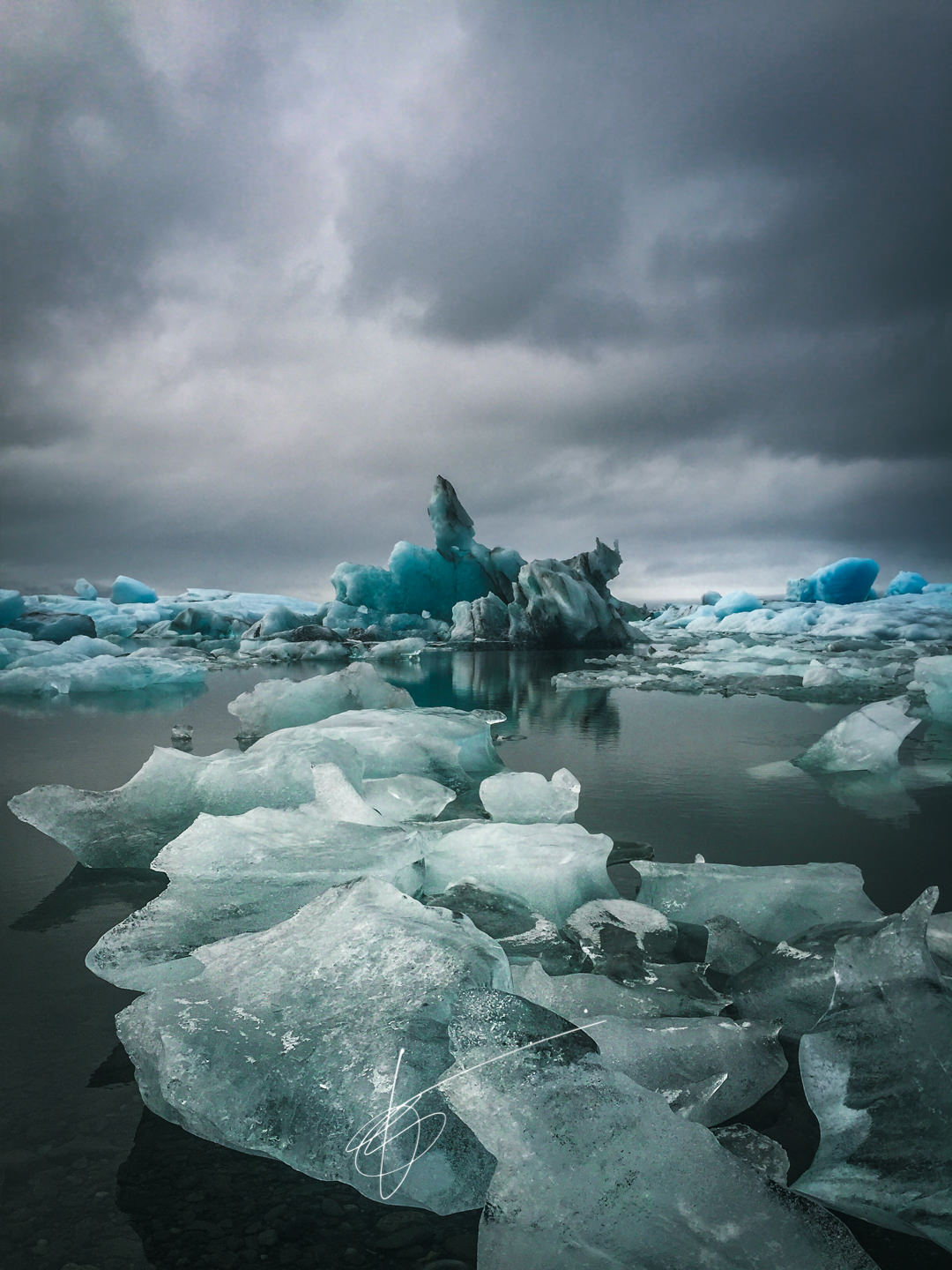 If I had not unveiled it already, you would have probably thought this was shot with one of my Fujifilm cameras. And rightly so. Maybe there's a bit too much noise in the sky, and I could have achieved better colours on Jökulsárlón with the Fuji.
But, come on: it's a pretty good result for a phone. Particularly these many years ago.
Gear
This photo is one of my best examples of how gear doesn't really matter and why nobody should ever stress over it.
But, since I mentioned gear…
A note
I still have not decided, but this might be the last Story Behind The Shot I make publicly available as a blog post.
I have been sending these to my newsletter subscribers, and I want to let them feel they are getting something valuable, exclusive to them. I'm also linking this blog to my Patreon, so this content will be made available to all my supporters as well. Supporting my work through Patreon starts at a mere $1.25/month (the 25 cents are the Paypal fee). It's a way to show your appreciation and means the world to me, particularly during these tough times.
With both the newsletter and the Patreon subscription you get a few perks, maybe these are a good incentive…
As always, thank you so much for reading it all through here!
Till next time!