Today we're looking at fog photography in London. In particular, a lot of cityscape and some street "fog photography".
We all have in our hearts the sight of beautiful landscapes in a thick fog or a delicate mist. But this has become rarer and rarer in the city. In London, for example, we now only have 2-3 days of fog a year. And so far, only 1 morning of fog in 2020: the one I'm documenting in this latest video!
Yes, of course I had to go out and shoot some London fog photography when it happened! I just love the atmosphere that the fog creates. It fascinates me how the fog can be both spooky and quietly poetic at the same time.
For this video, I'm back to the cinematic vlog format. You all seemed to have enjoyed my 'Rain' episode (go watch it if you missed it, but only after you watched the video below), so I created another one for this foggy morning.
Starting in Westminster, I moved East with the fog to capture some very spectacular scenes.
I also included a handful of old photos from 2015 and 2019. Because of Covid-19, the skyscrapers are closed to the public now, so I needed to select a few old shots to show you the fog from above.
The Video
Again, I filmed everything with a Fujifilm X-T4 and a GoPro. Photos are taken with Fujifilm cameras (the old ones were shot with X-T2 and X-T10) except one, with the iPhone. Let me know in the comments if you can spot the smartphone photo. I challenge you! 😉
I'm sure you will enjoy this fog photography cinematic vlog, so make sure you leave a like and subscribe to my channel, if you haven't already!
And of course, here's a direct link for you in case the embed does not work: https://www.youtube.com/watch?v=fMvraWSPL9U
The music and sound FX again come from Epidemic Sounds, which is more and more my go-to service for my soundtracks.
Prints
The image of Westminster Bridge from under the arch is available as a Limited 10 edition this month.
This is an all-time favourite of mine and features in my living room as well. I just love the mood here and the touch of colour coming from the Autumn leaves.
At the end of the bridge, you would normally see Big Ben. Maybe it's better this way since it is still hidden behind the scaffolding works.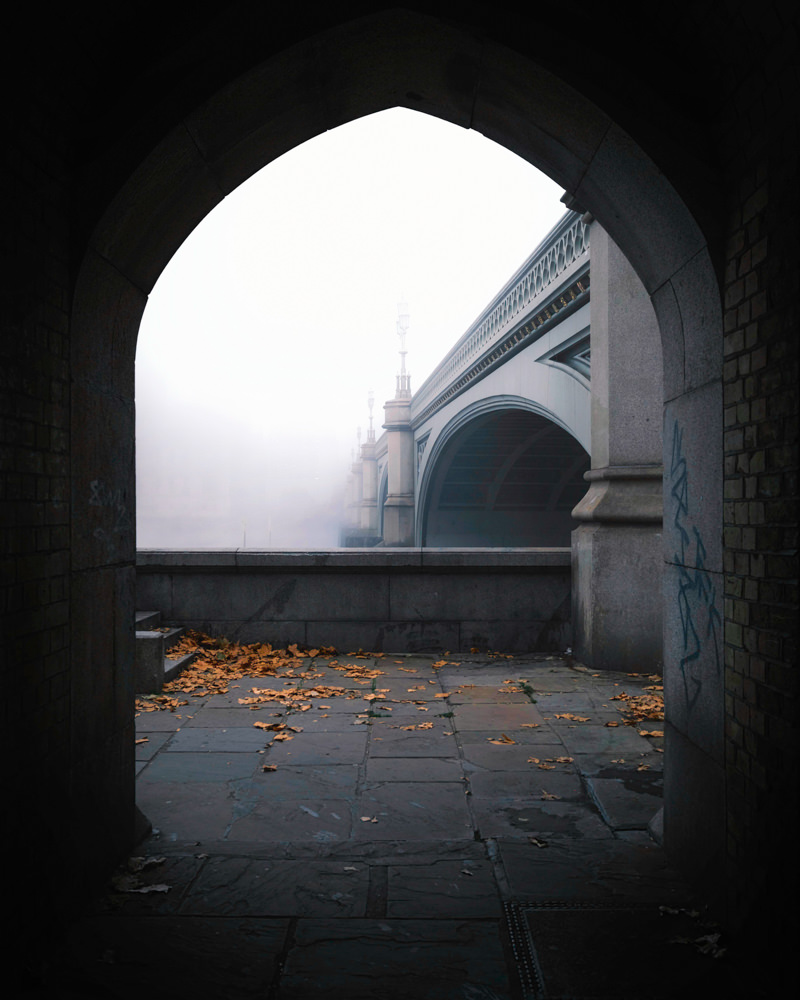 London Fog | LTD10, November 2020
Every month, I offer one print at a fixed, affordable price through this website. Only 10 prints of each image are available in one size of 8" x 10" (203.2mm x 254mm, including margins).
This month, a foggy scene in London hiding known landmarks.
This Limited 10 series is now sold out.
A new series will be available in 2023.
As always, all my photos are available for commercial and/or editorial licensing, and you can request a print for any image you like. Just use my contact form to let me know which one and I'll give you options, prices start at £50.
Photos with 'protected' subjects may only be available for editorial licenses.