Following disruptions in Royal Mail services, I'm urged to act on my print delivery service.
2022 has been a very good year of print sales, and the growth of online sales and customer satisfaction continues its upward trajectory. You seem to have particularly favoured my exhibited photos, especially the ones featured at the Photographer Of The Year exhibitions (Street and Nature).
Thank you!
But in order to keep things at a high standard, a major upgrade to my print delivery service is now necessary.
Royal Mail delays
Some of you have experienced issues with delayed postage deliveries. Recently, due to the combination of industrial action and a major cyber attack, Royal Mail service levels have dramatically declined. My services or my print lab's have not degraded. The blame is all on the recent events that hit Royal Mail. And in some cases, the delays caused by Royal Mail have been devastating. Not to my print sales, luckily, but to many other photographers I know.
Still, my print lab has moved quickly to find a solution.
New Print Delivery Service
The solution going forward is to use DHL express for delivery, effective from Feb 1st. Particularly for deliveries to regions where postage has been unreliable.
I am assured that DHL is exceptionally reliable and fast. Their estimated delivery times to most places in the world are less than a week. For example, most DHL deliveries from the UK to the United States are within 3 days.
Here are the delivery times compared: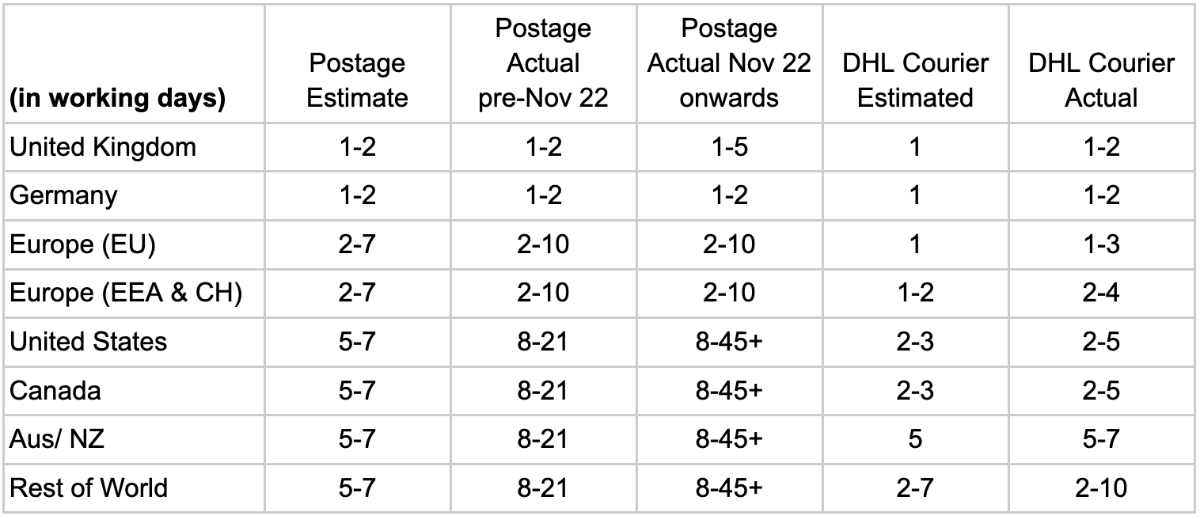 When you buy prints of my work, you will be excited and looking forward to hanging it on your wall ASAP. I want you to receive your order whilst that excitement is still high. Or perhaps you are buying them as gifts, and you want to know they'll arrive on time. This is why the print delivery service needed this swift change.
In a nutshell, I am upgrading to courier as the standard delivery for all framed and unframed prints everywhere but within the EU. For print-only deliveries within the EU, I will be using a lab located in Germany, which is still able to manage orders without delays.
Should that be impacted, I'll upgrade EU orders to courier too, of course.
Implications
There are, unfortunately, cost implications. Using a courier is obviously more expensive than the standard delivery. But it had become impossible to deal with delays, missed deliveries and the uncertainty surrounding Royal Mail. I needed a reliable print delivery service that could provide you with the best possible experience.
In most cases, I try to offer free shipping and cover the expenses myself. And will keep doing that for near-shore deliveries, accepting fewer earnings to keep you happy.
I'm afraid it won't be possible for deliveries to faraway regions and expensive framing. Therefore, prices need to update. But I'm aiming at keeping the increase at a minimum.
As a good gesture, I will not increase prices until Spring. Neither here on my store page nor in my Etsy shop.
I hope you will understand and keep trusting me with your purchases and appreciation.
Thank you!