I have been thinking about creating a 1 gigapixel photo for a while.
It's not an entirely new concept to me. About 15 years ago, in Florence, with a company called Centrica (not the energy firm), we turned the masterpieces of the Uffizi gallery into digital at an incredibly high resolution. For example, we took dozens of shots of Botticelli's Venere and then stitched them together to create this gigapixel photo that you could explore in its minutest details. Down to analysing the brush strokes or the millimetric defects of the canvas.
Check their website for more info, here.
We did the same for most of the artworks in the Gallery, as well as private collections. You can imagine how much incredible art can be found in Florence. I even had my hands on a 10-million-euros-gold-leaf-encased miniature from none other than Giotto!
It was a project akin to the Google Art Project, but created years before. And chances are that if you are using the Uffizi app or the website, you could still be viewing the images we shot back then.
For the gear geeks out there, that project was shot with a Hasselblad medium format camera and an Imacon digital back. It would output 50-megapixel images and the whole system cost 50.000 euros.
Luckily, it is far less expensive to obtain a 1 gigapixel photo today. And many cameras already start at higher resolutions. The Fujifilm GFX100S, for example, is about a tenth of that price and double the resolution (even octuple with the pixel-shift feature). And a fraction of the weight as well.
Anyway, back to business…
Shooting the panorama
And so, last night, I had the opportunity to create this panorama. All thanks to my friend Martyn and the wonderful volunteers at Severndroog Castle in Shooter's Hill, South East London. The castle (well, a tower, really) is a historic Grade II-listed 18th-century folly nestled in ancient woodland. It's beautiful but hidden from the main road, so you really have to know it's there in order to find it.
Myself, Martyn and our friend Bryan had exclusive access to the viewing platform on top of the building, under the supervision of Phil. And it couldn't happen on a better day.
The weather in the UK has been miserable the whole year. To the point that even the weather forecasters on TV look quite depressed when they appear on screen.
While continental Europe faced scorching weather (and, unfortunately, wildfires), we barely had a handful of sunny days here. And I still wear a hoodie in August.
But yesterday was actually nice, sunny and warm. With a decently clear sky that was giving us hopes for good photos. Even with a bit of haze on the horizon, we knew the scene had potential.
On top of that, the view from Severndroog Castle is breathtaking. It's an unobstructed view from South-East to North-West: roughly from Kent to Stratford. And then there are pockets of extended views to the North and East.
And it's baffling because you don't even see the castle from the road. Its top rises above the trees just enough to peak and let you enjoy the view.
Which doesn't disappoint.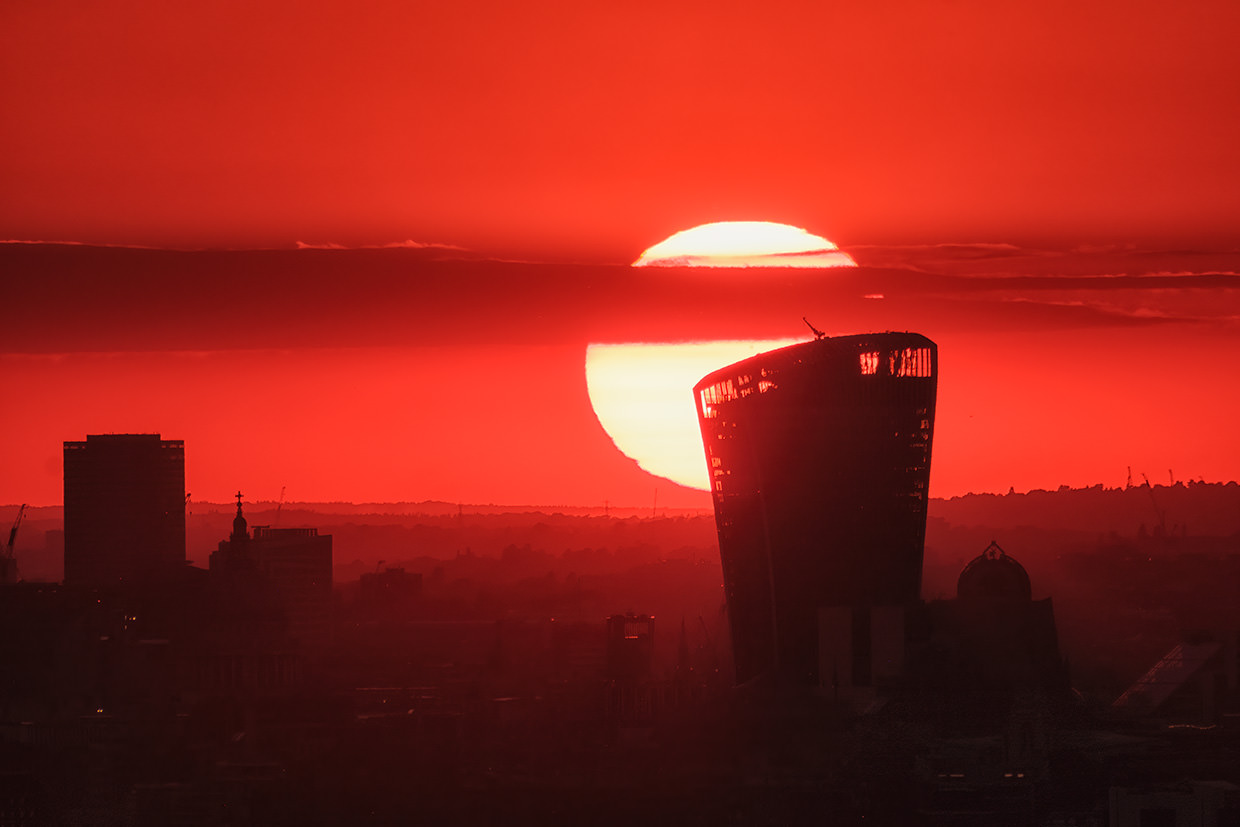 But let's get back to the 1 gigapixel photo…
Now, ideally, you would want to take this photo in the early morning. Reason being that the sun would be behind you and lit up the scene. Here, as much as it is nice to watch a golden sunset, we are also staring at the side of the buildings that is in the shade. Lots of silhouettes but not much detail. But it was still bright enough for the camera to capture most of it.
In the 20 photos I took (bracketed, for a total of 100), you can clearly see the highlights of the famous London skyline. The London Eye, the Shard, the Wembley stadium arch, the BT Tower, all the skyscrapers in the City and Canary Wharf, the curvy path of the Thames around the O2, the cable car, Royal Wharf and Stratford.
Some others are more hidden but still visible: Saint Paul's Cathedral, Tower Bridge, Greenwich's Cutty Sark…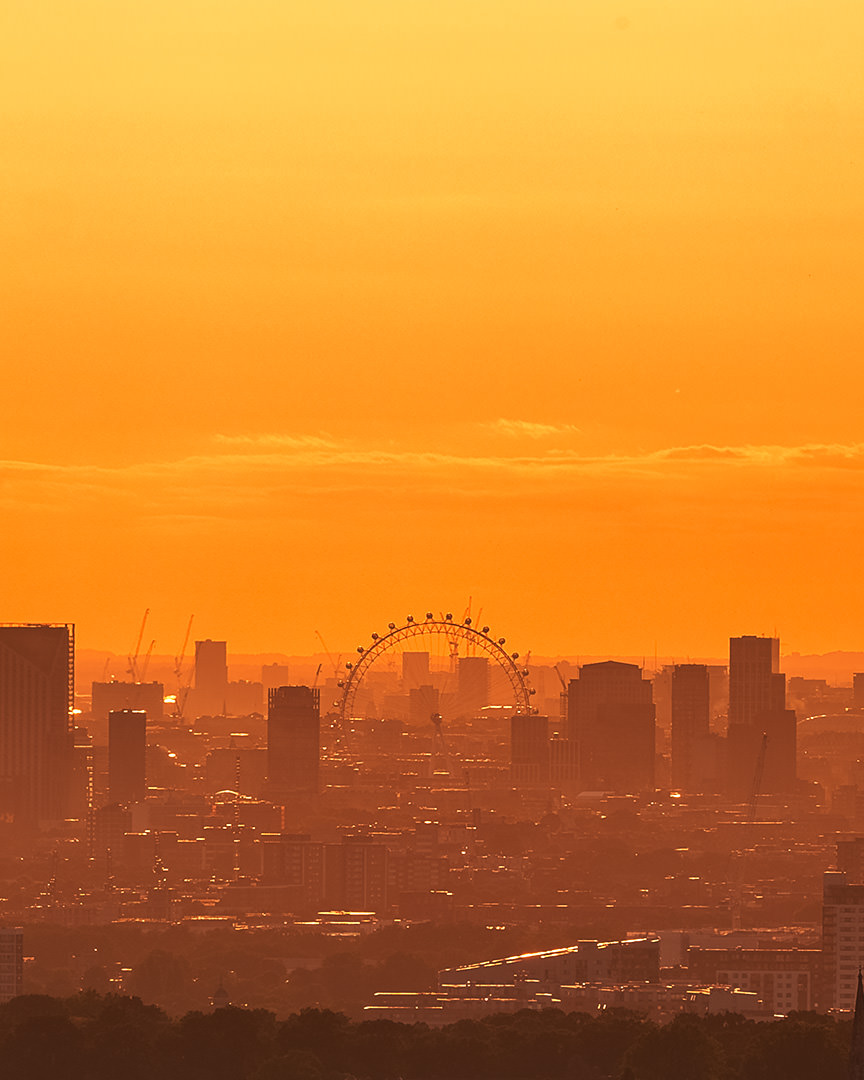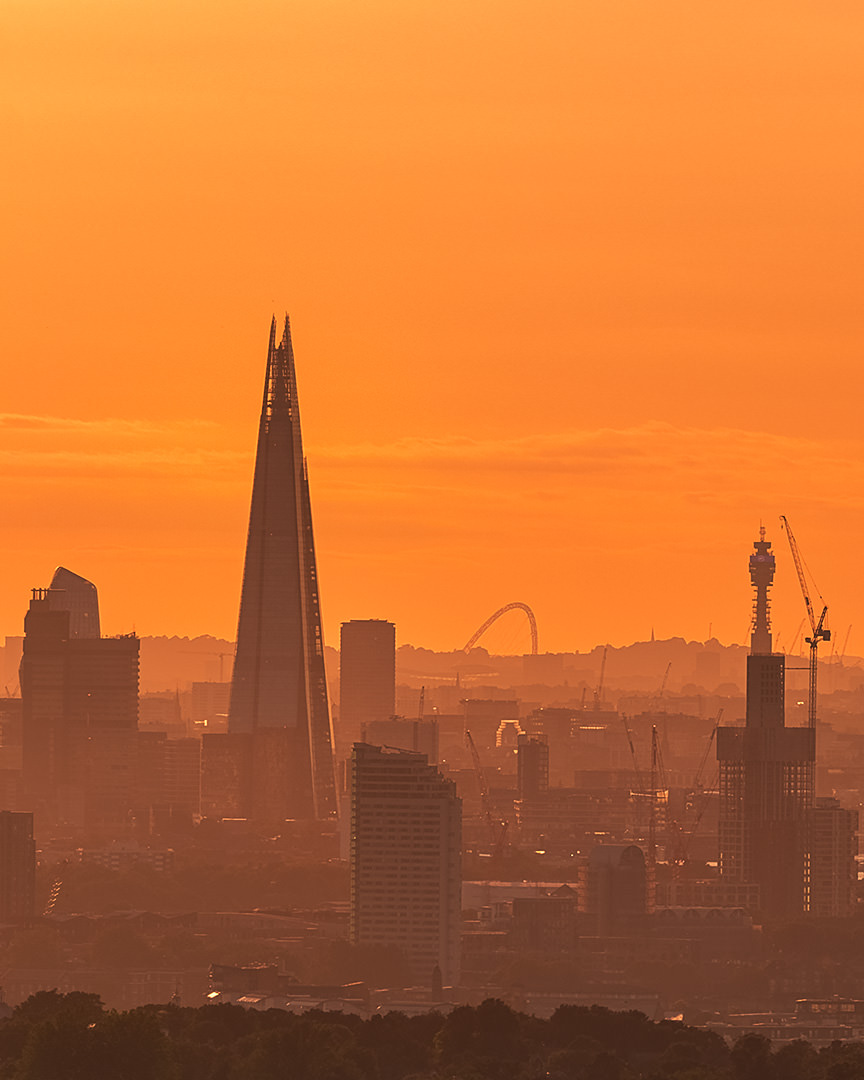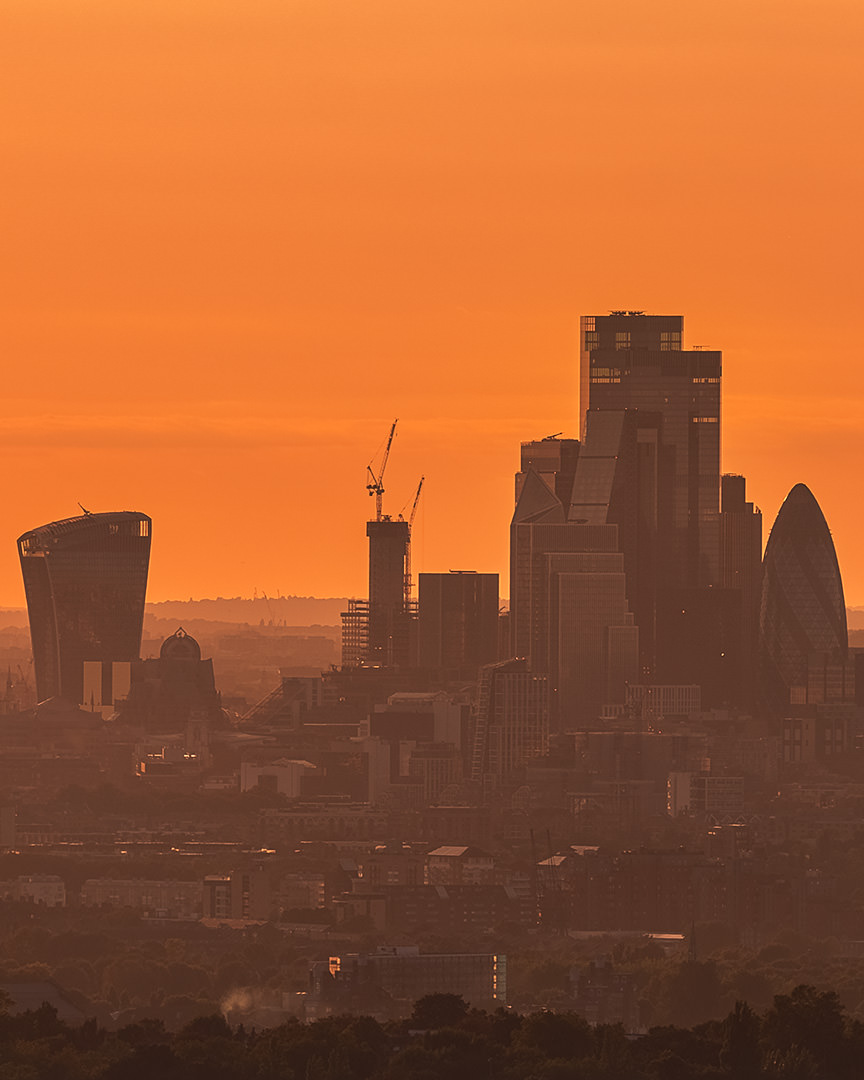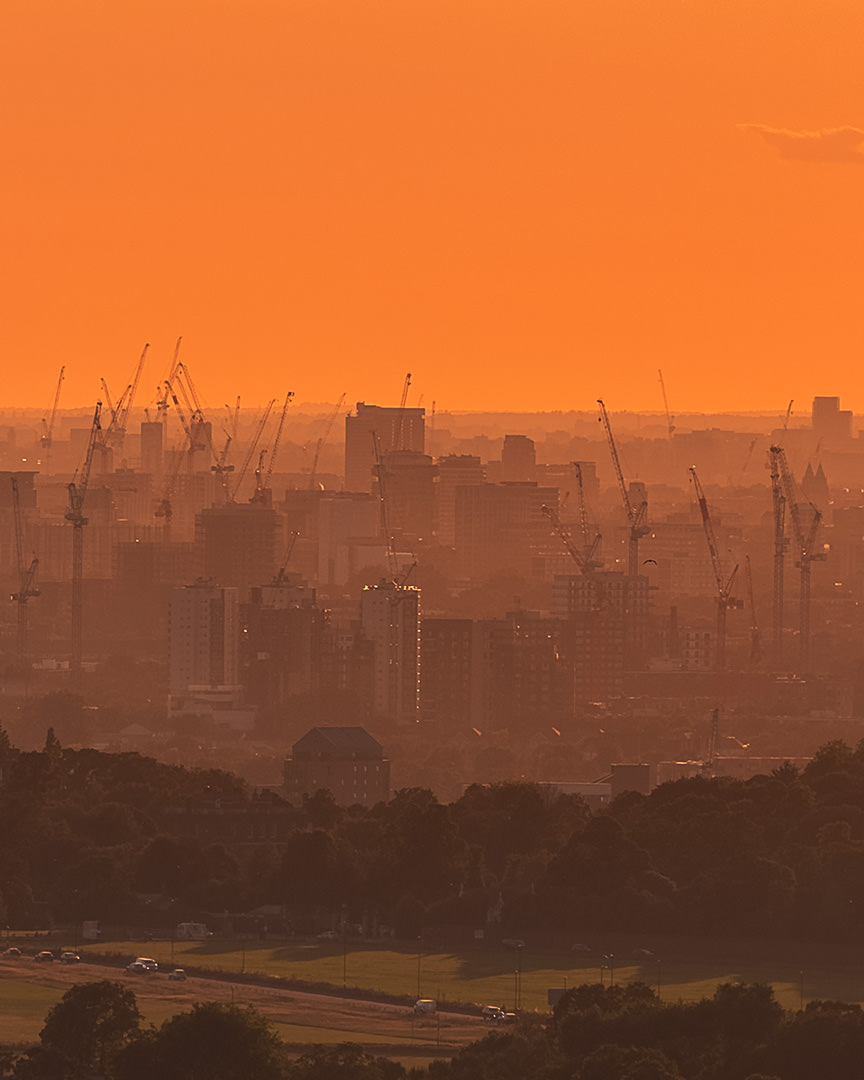 There are a couple of annoying branches in the view, but overall I'm extremely pleased with the result and the amount of details in the image.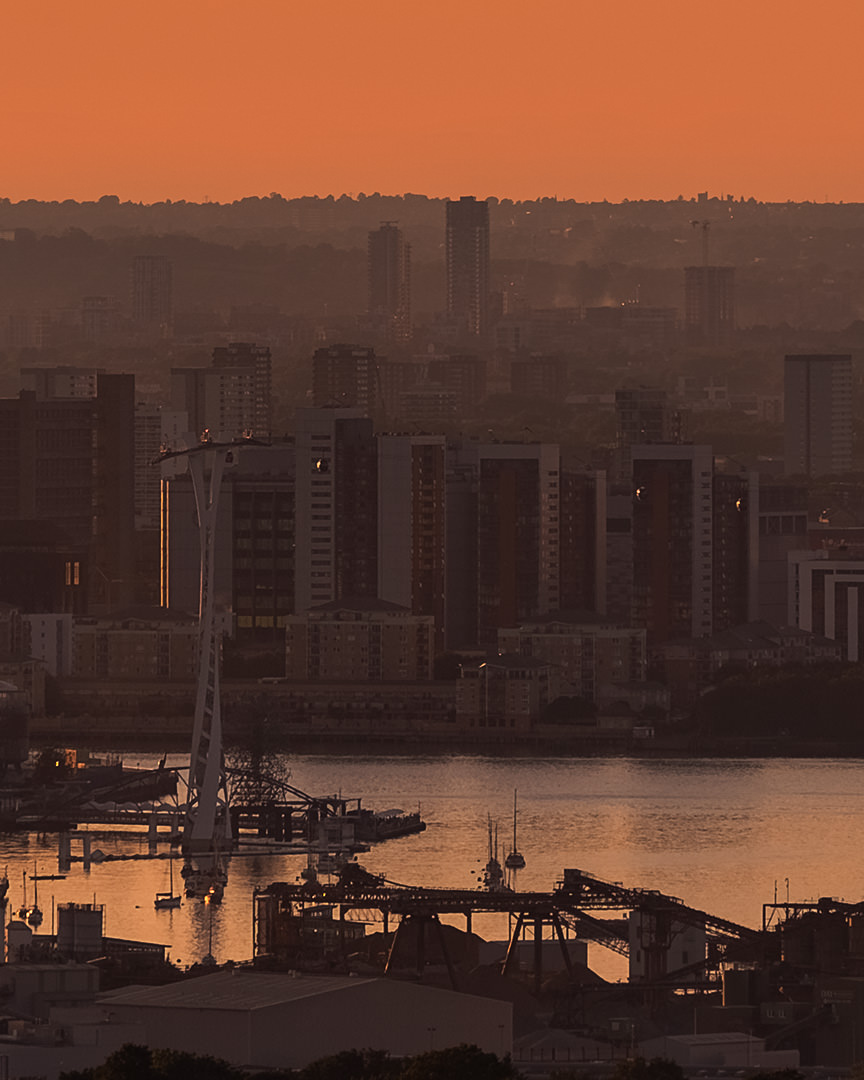 Some quick technical info
I shot the panorama with a Fujifilm X-T4 and the Fujinon XF 100-400mm F/4.5-5.6 R LM OIS WR lens. For the blood red sunset further above, I added the 2x teleconverter to achieve an equivalent of a 1200mm reach.
I shot at ISO 640 for a couple reasons. First, because it's when the camera has the broader dynamic range: at ISO 640, it enables the DR400 feature which uses the computational power of the camera to better understand all the details in lights and shadows. My understanding is that it tells the camera to use all information it can get from ISO 160 (minimum) to 640 (and higher if you shoot at higher ISO), thus extending the dynamic range. And this is exactly the kind of scene where you can benefit from the feature.
Secondly, it gets windy on top of the tower. So, I needed a faster shutter speed to avoid shaky results. Here I decided to shoot at 1/2500s. In theory, 1/1250s could have been enough, but I was not taking chances. And I also wanted to shoot at F/8, for the depth of field and to take advantage of the sweet spot of sharpness of this lens.
So I had to bump the ISO just a little.
The bracketed shots were 5, at 1 1/3 stops. In the image you see in this post, I only used 3 of the 5 (discarded darkest and brightest) because it was taking forever to generate the image.
It took about 1 hour to generate the 0.36 gigapixel stitched HDR panorama in Lightroom. On a M1 Max 64Gb Mac. And another 10 minutes to upscale to the 1 gigapixel photo.
But in the final print I'm using all 5.
I used ON1 Resize for the final image, instead of Gigapixel AI as I normally do. This is because, despite its name, Gigapixel AI from TopazLabs doesn't actually let you upscale to 1 Gigapixel, a limitation that was not in the non-AI version of the software.
And the final 1 gigapixel photo is less than 2x enlargement of the original (final size is 96000x11200px). Which I know from experience is perfectly achievable without any deterioration to the end result.
The final image
Unfortunately, your browser is not large enough to view this full size. The image length is, in fact, just over 8m.
It is, of course, available to purchase. Not via this website like it usually would, mind you. Because this is very much a custom print (and framing) that needs to be discussed privately and likely better arranged with a print service close to you.
And not everyone will have the space to fit the full 1 gigapixel photo. Myself, to start, I'll print this for my studio at a length of 3m. And I might even decide to turn this into a fine art black and white, for myself and whoever prefers it.
If you are interested, head to my contact page and get in touch. I'm more than happy to help you fit this photo into your space. We can discuss print options, framing, placement… even the best way to light this on your wall 🙂
In the space of this blog post, this is the size I can fit. With a carousel just below so I can show you a bit more details.
This specific crop of the full view goes from Blackheath and Vauxhall to the left up to Stratford and Royal Wharf to the right.
If I can find a (free and secure) way, service or platform, that allows you to navigate the full size image online, I will add it to this page. There is one available for WordPress blogs, based on open source code, but it hasn't been updated in over 3 years so I can't trust it to work responsively and securely.
I will take a few more of these panoramas around London, whenever I will have access to an adequate space. If you own one and want me to come shoot for you… If you have a hotel or an office with a vista… Again, get in touch!
And I will also do this again with the Fujifilm GFX medium format camera, in order to achieve the 1 gigapixel photo without the need of upscaling. So, stay tuned!
One last note to thank everyone at Severndroog Castle for their hospitality. They are a wonderful team of volunteers who care about the place and do all they can to preserve it. It is great that they managed to save the structure from dereliction first and private leasing then. Well done! Go have an afternoon tea or one of the famous sausage rolls on a Sunday 🙂
See you there. Cheers!