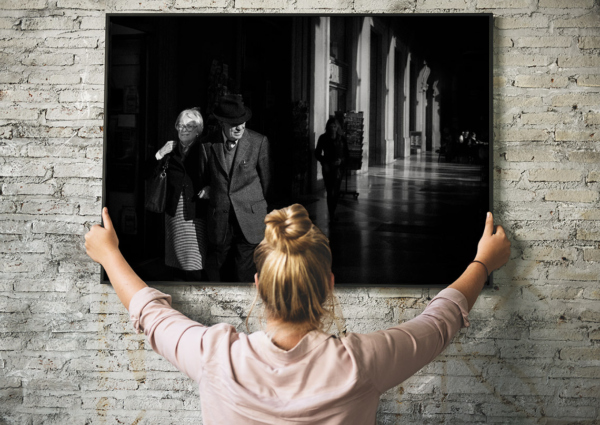 In stock
Street Photographer of the Year 2022
£57,00 – £347,00
If you wish to hang award-winning photos on your wall, here is my Collection series for you.
Photos exhibited and published all over the world, awarded prestigious titles. Also available in limited editions, in large size and/or with premium framing, with Certificate of Authenticity.
---
"The Stories We Tell"
The photo that earned me the main feature at the Street Photographer Of The Year exhibition in Chicago. It can be viewed at the Bridgeport Art Centre between the 21st of July and the 1st of September 2023.
If you want to read more about the event and the photo, I wrote about it here.
I took this photo in Florence, Italy, during one of my Street Photography workshops. It was a lucky shot, as I was simply demonstrating how to capture the light between the arches and this couple happened to pass in front of me. But my advice is always to have your camera ready, so you can "make" your own luck. And I most certainly did in this case.
---
Available in 5 different variants:
110x73cm (43.3×28.9in), signed Collector Edition w/ Certificate Of Authenticity (44pcs) unframed
84x59cm (33.1×23.4in), Deluxe Edition w/ Certificate Of Authenticity (88pcs) white frame
59x42cm (23.4×16.5in), unframed
42x30cm (16.5×11.7in), unframed
30x21cm (11.7×8.3in), unframed
Bespoke solutions can be made available, contact me to discuss.
Free shipping worldwide.
Print Quality

Additional information

Reviews (0)

Printed on Giclée Hahnemühle Pearl
Hahnemüle Pearl has a smooth orange peel texture and a bright neutral white base. It creates really natural black and white images and offers vibrant colour reproduction and great detail too. The paper is resin coated with a fibrous feel. The satin finish of the resin coating gives depth to the image, which combined with the texture and vibrant colour reproduction, gives the image the feel of an oil painting.
This is one of the most suitable of the Giclée Art Paper range for mounting.
---
Weight: 285 gsm
Finish: Pearl / Satin
Paper Tone: Natural white
Texture: Fine orange peel
| | |
| --- | --- |
| Dimensions | N/A |
| Size | 110 x 73 cm, 43.3 x 28.9 in, 84 x 59 cm, 33.1 x 23.4 in (A1), 59 x 42cm, 23.4 x 16.5 in (A2), 42 x 30 cm, 16.5 x 11.7 in (A3), 30 x 21 cm, 11.7 x 8.3 in (A4) |
| Frame | Unframed (print only), White frame |
Only logged in customers who have purchased this product may leave a review.