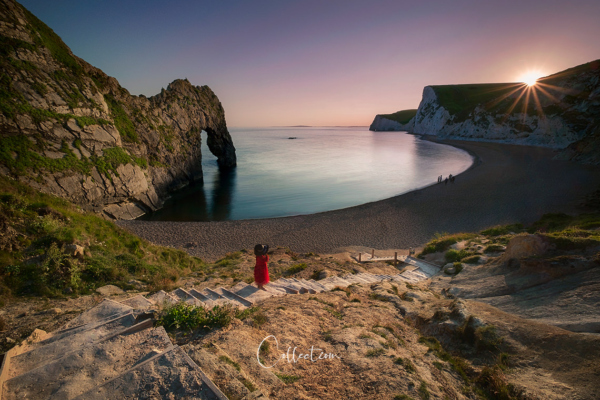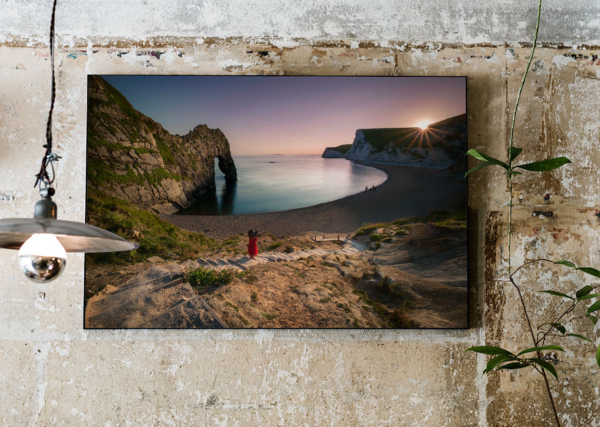 In stock
Nature Photographer of the Year 2020
£97,00 – £347,00
If you wish to hang award-winning photos on your wall, here is my Collection series for you.
Photos exhibited and published all over the world, awarded prestigious titles. Also available in limited editions, in large size and/or with premium framing, with Certificate of Authenticity.
---
"The Woman In Red"
This photo earned me a feature at the Nature Photographer Of The Year exhibition in Vancouver. It was on display at the Space Gallery in August 2020.
In the following years, it has also been featured in Johannesburg, Manila, San Diego and other cities worldwide.
I visited this location on a hot July day to photograph the Milky Way later during the night. At sunset, the temperature started dropping, and people were leaving the beach. As to give a last glimpse into the setting sun, this woman stopped in the middle of the scene. Even on a long exposure, she stood still long enough to take the photo and become the star of the show.
The woman was a complete stranger, but I'm glad she stopped there. And now she greets all the guests visiting my studio from this large picture on the wall.
---
Available in 7 different variants:
146x97cm (57.3×38.2in), Collector Edition w/ Certificate Of Authenticity (25pcs) unframed
97x65cm (38.2×25.5in), Gallery Edition w/ Certificate Of Authenticity (99pcs) unframed
84x59cm (33.1×23.4in), black frame
84x59cm (33.1×23.4in), unframed
59x42cm (23.4×16.5in), black frame
59x42cm (23.4×16.5in), unframed
42x30cm (16.5×11.7in), unframed
Bespoke solutions can be made available, contact me to discuss.
Free shipping worldwide.
Print Quality

Additional information

Reviews (0)

Printed on Giclée Hahnemühle Pearl
Hahnemüle Pearl has a smooth orange peel texture and a bright neutral white base. It creates really natural black and white images and offers vibrant colour reproduction and great detail too. The paper is resin coated with a fibrous feel. The satin finish of the resin coating gives depth to the image, which combined with the texture and vibrant colour reproduction, gives the image the feel of an oil painting.
This is one of the most suitable of the Giclée Art Paper range for mounting.
---
Weight: 285 gsm
Finish: Pearl / Satin
Paper Tone: Natural white
Texture: Fine orange peel
| | |
| --- | --- |
| Dimensions | N/A |
| Size | 146 x 97 cm, 57.3 x 38.2 in, 97 x 65 cm, 38.2 x 25.5 in, 84 x 59 cm, 33.1 x 23.4 in (A1), 59 x 42 cm, 23.4 x 16.5 in (A2), 42 x 30 cm, 16.5 x 11.7 in (A3) |
| Frame | Unframed (print only), Black frame |
Only logged in customers who have purchased this product may leave a review.