… and off I went to South Korea.
For the first leg of my month-long trip, I decided to start from a place far away. Geographically and culturally. I had in mind to visit Seoul already while I was working at Endava. I thought I could easily work remotely from there, thanks to lightning-fast (and affordable) wi-fi connections throughout the country.
Most of what I knew about South Korea before was food-related. Thanks to the many restaurants in London and a few TV shows.
Lucky for me, a friend of mine had lived there for a couple years, so I went to him for recommendations.
Accommodation
Knowing me, he of course suggested I stayed in the creative Hongdae district. But being this my first time I wanted something more central, and decided to book a room in Myeong-dong.
By the way, if you fancy a £15 discount (or equivalent in your currency) next time you book a hotel on Booking.com, make sure you use this affiliate link: https://www.booking.com/s/35_6/cbe52082.
Simply because of two features (and I promise this is the last Booking.com link here), I recommend you look at the hotel I booked: The Splaisir.
First of all, they have rooms featuring the traditional wooden bathtub, the hinoki. It is amazing for relaxing in hot water using natural oils (it's not for washing!). Particularly after a day walking around with a heavy photo bag or hiking. Then, if you're into this sort of things, the hotel has a whole floor dedicated to Line Friends, where all the rooms feature this theme. With related furniture, posters and plush toys. That would have been a bit too much for me. But I met quite a few people in the lift who were staying in a room on that floor.
My other option for my stay was one of the hotels of the Lotte group, voted Best in South Korea. So maybe check those out too (as I promised, no more links, find it yourself above).
Of course, there are plenty of cheaper options. But I wanted to kick off in style and I was lucky to find a very convenient last-minute deal.
And, in hindsight, the staff there was superb too so think about it 😉
Travel
I did some research on the airlines and found that both national airlines, KoreanAir and Asiana Airlines, had very good reviews. So, in the end, I went for the cheaper of the two. Which in this case was Asiana Airlines.
Personally, I found Asiana to have a much (much!) better user experience through the website and app. But both are pretty straightforward and have far better policies for amending or cancelling your booking than any other airline I ever travelled with. I don't know if we're particularly unlucky with airlines in Europe, but the conditions here are not customer-friendly at all!
Note that that Asiana and KoreanAir operate from different terminals: Asiana is at T1, while KoreanAir is at T2.
My flight with "the Kid From Hell"
When I travel on a long-haul flight to the East, my preferred plan is to depart in the evening so I can sleep in the plane and wake up when I land. To avoid jet-lag. And normally, departing late in the day means cheaper flights. You need to consider your check-in time, of course. But hotels are often happy to keep your luggage in a dedicated place until your room is ready.
Also that the airports are less crowded so you don't find queues (unless you're at London Heathrow).
Anyway, passed security, I'm ready to board!
What I hadn't really foreseen, was to sit next to the Kid From Hell! A 5-6 years old boy, wearing no shoes and with the grossest dirty feet. He spent all night watching cartoons and talking to the characters on screen. And moving. And hitting me every other minute! When he finally fell asleep, with less than 2 hours to landing, he started leaning heavily on me and hitting me with his head too. 
I managed to sleep a few minutes every now and then. But that proved hard because the above went on for all the 11 hours of the flight.
And then I landed in Seoul, at the Incheon airport (fact: Incheon International Airport has been named Best Airport in the World for 12 years in a row!). I spent some time here because I had logistics organised beforehand that I needed to sort out (see below)…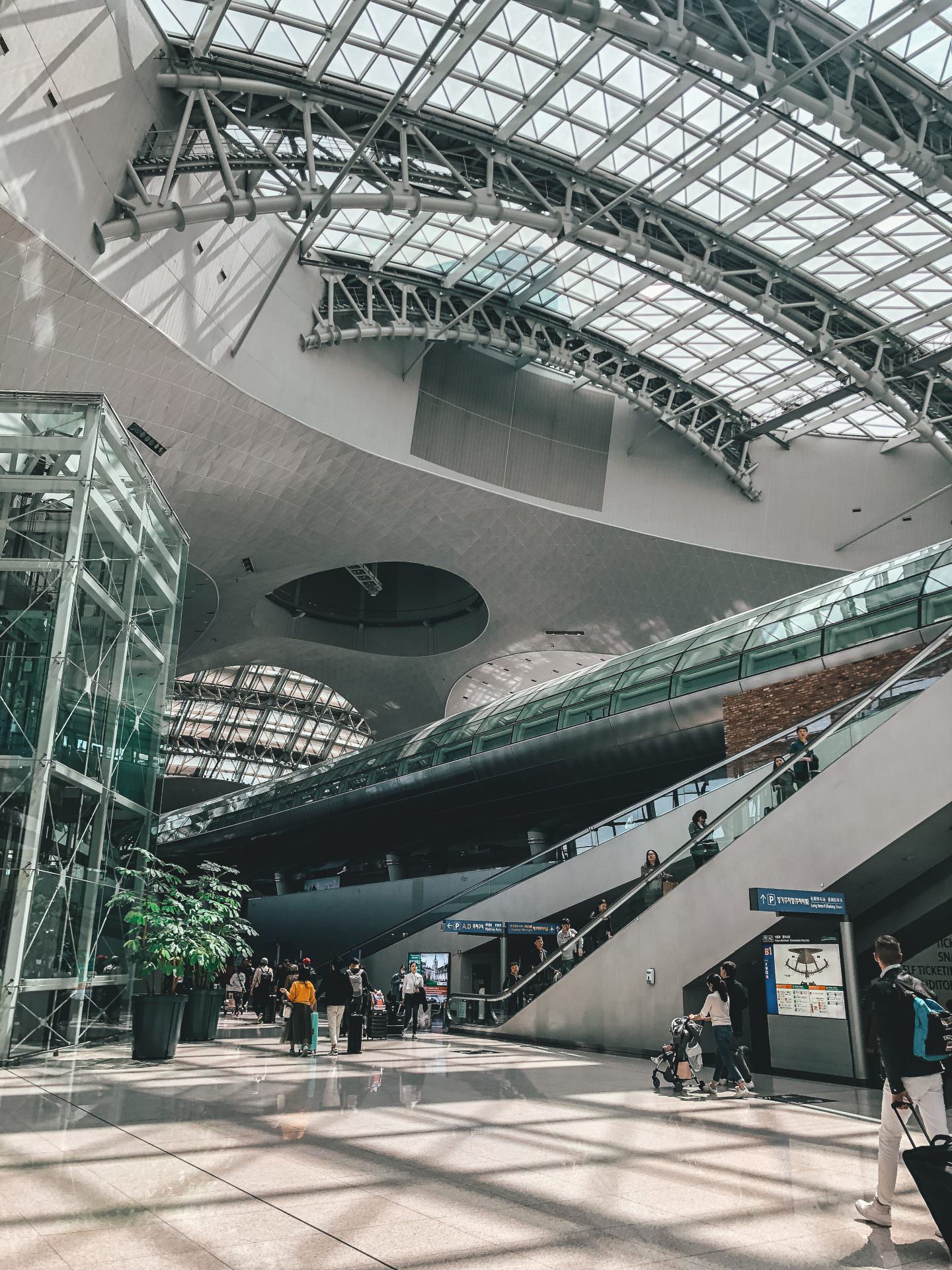 Arrival (and useful stuff)
Before leaving, I found this website I didn't know about called Klook, with several useful services for different countries around the world. They offer a lot of discounts on tickets. But most importantly in my case, they also have pocket wi-fi devices and SIM cards at a very competitive price.
I do have a referral code for Klook now, so if you plan to use it, sign up from here. You will get some money off from our next booking: https://www.klook.com/invite/PQR2V.
I had booked a pocket wi-fi device (at the time of writing it's on sale for less than £2 a day, on top of my referral discount) and the DiscoverSeoul Pass (which includes the public transports card) and I went to collect them at a kiosk in the airport. By the way, I highly recommend the DiscoverSeoul Pass for the discounts at several attractions.
I also needed to withdraw some cash. I had read that South Korea is not yet fully card-friendly (particularly public transports and taxi).
Once this done, I was ready to leave the airport and board the AREX Express to Seoul.
It takes about 45 minutes to get to Seoul station from the airport. Or longer if you take other options. And it's another one of the tickets you can buy with a discount from Klook.
Seoul
I finally arrived at Seoul train station.
First steps in South Korea and I lost my way immediately!
Way too many exits. And the signs were not too clear to me, at least on this very first day. So I ended up taking the wrong one and wasting a few minutes trying to figure out where I was.
After I learned the system it made perfect sense to me, just not on arrival.
By the way, here is my Instagram post of the Seoul station area.
There is a green (as in with trees) footbridge crossing the main road with this ideal view for your photos.
It's a good example of why I love shooting during the so-called Blue Hour. Right after the sun has set (or just before it rises).
There's still some nice colour in the sky, but the artificial lights are all starting to pop. Which makes for an effect I find very attractive.
I use a technique called Time-Blending to edit multiple photos, even long exposures like this one. But I will talk about it somewhere in the blog at a later stage.
Quick Tip. Being so perfectly efficient in London, I was relying on an app called Citymapper for directions. But I soon realised it wasn't so helpful in Seoul because its open source maps were mostly in Korean. I was trying to input names in English so it wouldn't find results.
Google Maps is definitely the app to use here. It's far more effective in giving you the right information. And it has the added benefit of being able to download an explorable map of the area for offline use. You know, in case you can't connect to the internet.
If you know of other English-friendly options, please comment below.
First steps
Anyway, a couple more wrong turns later I managed to arrive at the hotel. Exhausted (mind you, it took about 18 hours door to door) but very excited to start the new adventure.
A shower and a quick rest and then back in the street immediately to experience my first Seoul night. I made a good choice with staying in Myeong-dong… so many good spots. Starting with Namsaedun market and the commercial district with all the famous street food stalls.
And of course I had my camera with me: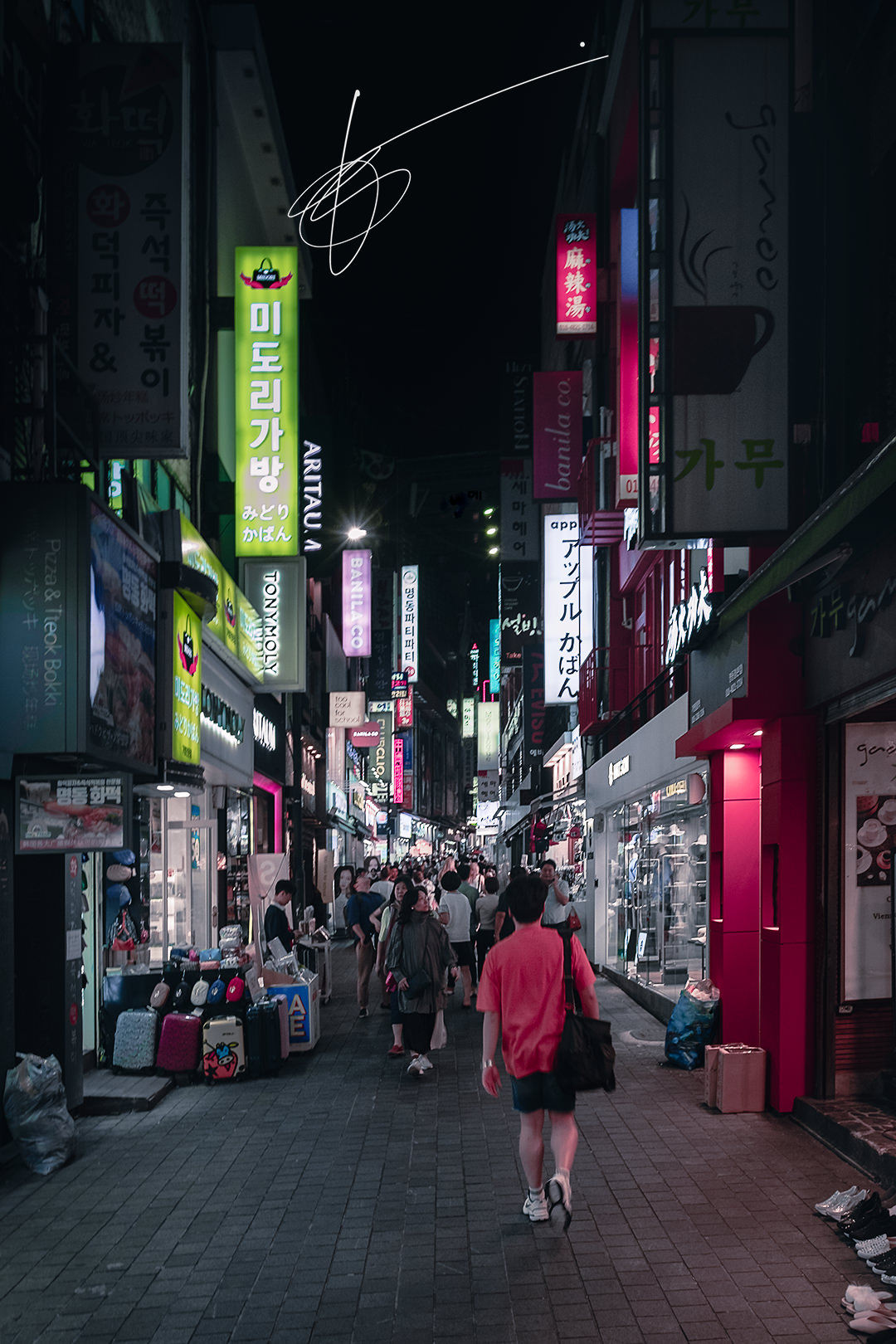 Here I am, starting this journey!
If you want to read about my stay and find my personal highlights of Seoul, jump over to Part 2.
Then, in Part 3, I'll add a couple of day trips. To Suwon to see the fortress and to Busan to visit the unique Buddhist temple on the ocean coast.
Considerations
Cutting to the end of my stay, I had a fantastic time in South Korea and I highly recommend it.
I didn't know much about it before going and it very positively surprised me. Of course, I expected the food to be good, and I found it exceptional. I met new friends and visited beautiful locations, never finding problems with the language barrier. Not even when I spent a couple hours "talking" with a very old photographer through gestures, pictures on camera and Google Translate on the phone. But other than that I found that most people speak very good English), and I always felt very safe.
Frankly, I can't wait to go back there again!