Travel Diaries: South Korea, Part 2.
Welcome to my Seoul highlights!
Here I'm going to list my personal recommendations based on the short time I spent wandering around the city. And I'll add a few tips as well.
See the bottom of this page for links to Part 1 and Part 3.
The first thing to mention is the DiscoverSeoul pass.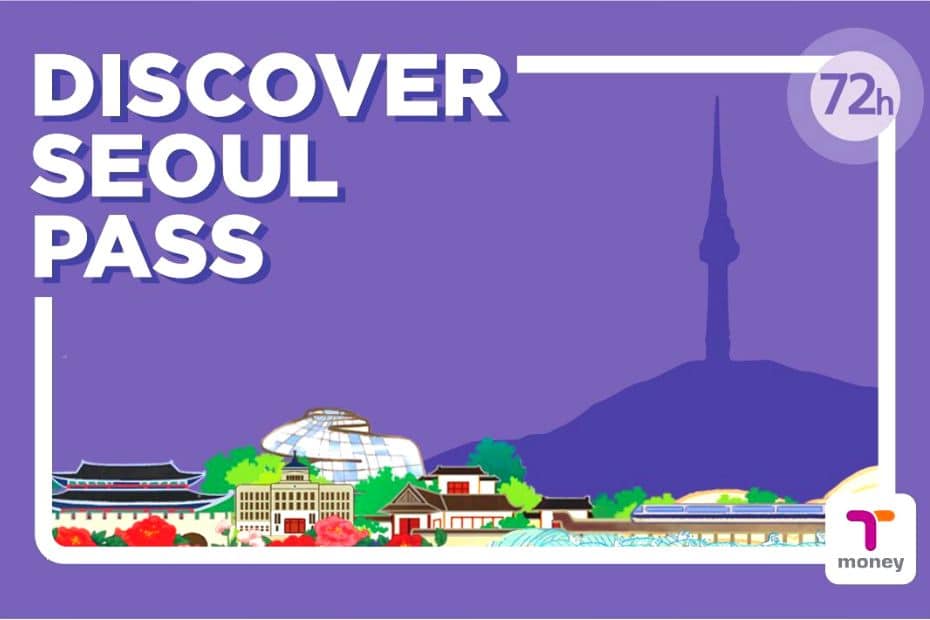 It's a very convenient way to visit most of my Seoul highlights. I reserved mine before arriving through an online service.
There are 3 "flavours" available, 24, 48 and 72 hours. I think it's a bit of a bummer because it forces you to rush to see as many attractions as you can in a limited time (though it starts counting from the first visit, not from when you buy it). But you get good discounts or even free admissions and sometimes you can skip the queues as well. Oh, and you have a one-way AREX ticket included too (that's the train from the airport to the station).
The relative app was slow and buggy when I used it, but it was helpful to keep track of the time left and to mark the places I wanted to see.
T-money
Another benefit of the DiscoverSeoul pass is that it also functions as a T-money card. So you don't have to buy a separate one, and you can use buses, subway and taxis with no issues. T-money is an electronic contactless payment system: you top up the card at convenience stores or kiosks, and then you use it to pay for your journey on public transport.
It's also valid in some affiliate stores, like Starbucks, CVS, etc. And if you have a small amount of money left in the card when you leave Seoul, you can get a refund (before you go through passport control at the airport).
It even works with public transport in surrounding cities, like Suwon (see day trips in the next post).
You can buy it beforehand via Klook at a convenient price. Even more convenient if you register via my referral link, because you get some money off your first purchase. Use the link https://www.klook.com/invite/PQR2V. Or you can buy it from the official site.

If you only need a T-money smart card, without the benefits of DiscoverSeoul, you can buy it at convenience stores or ticket machines in most subway stations.
Going around
When using the buses in South Korea, you must tap your card when you hop on. But also remember to tap when you hop off! Doing this will discount the next travel, in case you need to catch another bus. This can save you A LOT of money.
The subway works smoothly (and you have 4G coverage and wi-fi everywhere). The announcements always include English as well.
A couple of things I noticed:
– some stations are huge, and you might have to walk a lot to get to an exit or change trains;
– way too many exits don't have escalators, unfortunately;
– ticket machines might not be near every exit.
Line 9 has both slow and express trains, so check which train goes to your destination before boarding the first you see.
My go-to app to wander around Seoul was Google Maps. I also had Citymapper installed, which was always very efficient in every city I visited in Europe but was not working so well in Seoul. At least not for me because I was inputting my searches in English, but the maps were mostly in Korean. So the app got confused a lot. It might work well if you're Korean, I guess.
Google Maps gives you all the information you need, whether you walk or use public transport. And it keeps an offline copy of your search (for a limited time), so you can keep referring to it without consuming bandwidth.
I know from YouTube videos that some didn't have a good experience with Google Maps. It wasn't my case, but feel free to add more options in the comments below.
Logistics sorted, let's go with my Seoul highlights:
Namdaemun gate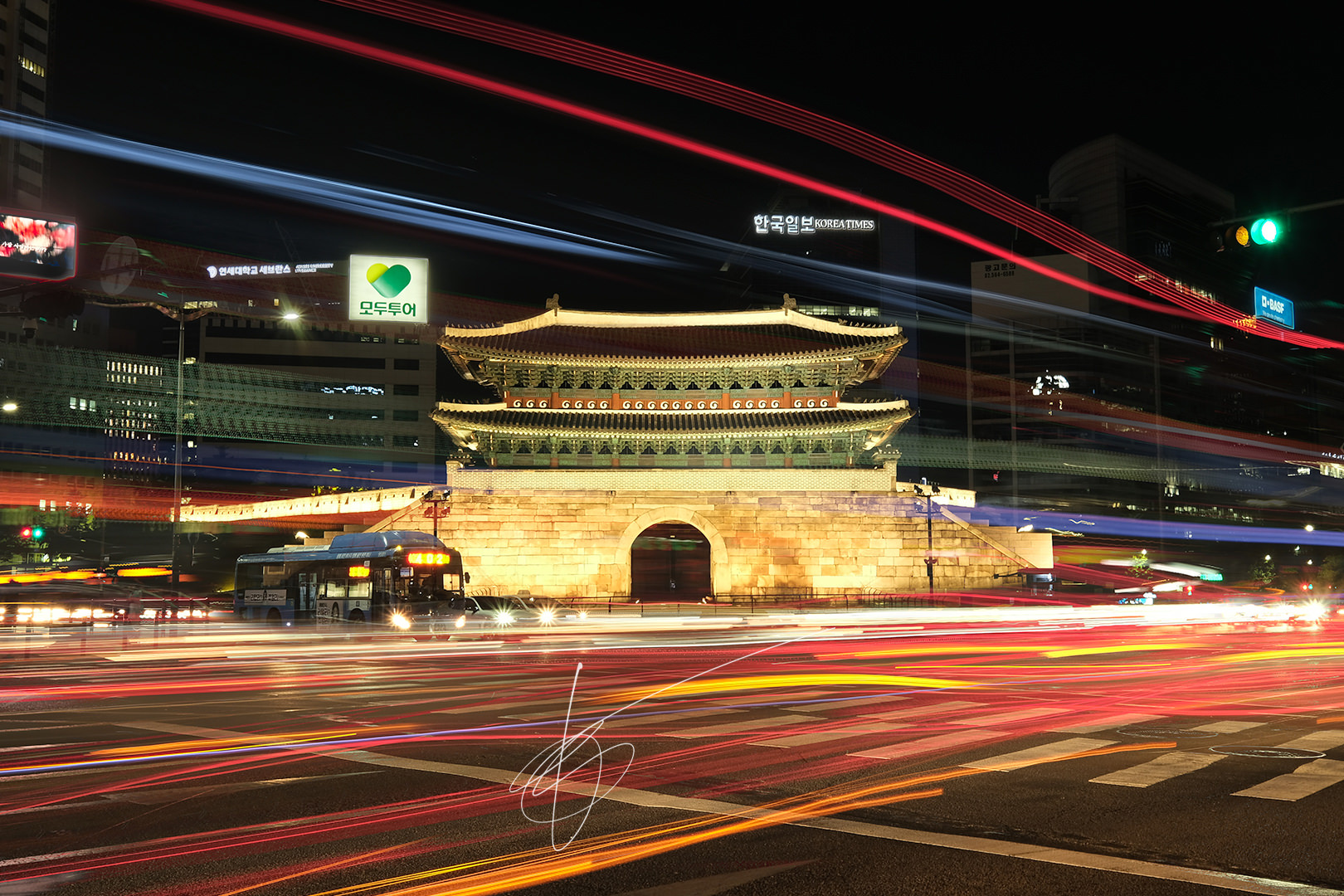 I'm starting with this because it's the first thing I saw after leaving the train station. 🙂
The Gate of Exalted Ceremonies is one of the eight gates in the fortress wall of Seoul, which surrounded the city in the Joseon dynasty. The gate is between the train station and Seoul Plaza, and the historic 24-hour Namdaemun market is next to it.
The pagoda you see on top of the gate today is a restoration of the original. That was the oldest wooden structure in Seoul but went destroyed by arson in 2008.
You can also find it under the name Sungnyemun. But it's argued that this name was forced in by the Japanese empire, so people prefer to refer to it as Namdaemun.
Markets
If you want to fully experience Seoul, you must visit the markets. From street food to clothing and everything in between, markets play a huge role in the lives of the Seoulites. They most certainly play a big role in my Seoul highlights. And there are markets that really only come alive at night… The phrase "the city that never sleeps" is used quite often, most notably in New York. But I found this to be very true in Seoul.
I went to visit 5 of the city markets:
Myeong-dong market
First one, and most visited because it was close to where I stayed, is the Myeong-dong market. It's a popular tourist favourite, gathering big brands stores, many street food stalls, restaurants and the famous Korean cosmetics shops. All in one neighbourhood.
The area is busy all day long, but it's after sunset that the crowds flow here. Doesn't stay open all night, so if you feel a midnight craving like I did, you must look elsewhere.
Namdaemun market
The historic Namdaemun market (one of the oldest in South Korea) stays open 24h, although not every shop. And it can be a totally different experience from day to night.
It's divided into "streets", each serving a specific niche: there's one for jewellery, one for bags, one for kids, etc. You can find almost anything you need here, provided you don't get lost in its web of small alleys and hidden corners.
This market is also on Asia's 10 greatest street food cities for the hotteok, the famous Korean pancake.
Dongdaemun market
I must admit I was completely lost here. So I haven't managed to visit it all. This large market is divided into five shopping districts and a shopping town. It features about 30,000 speciality shops, so you can picture how I lost my way around here.
The larger area I visited sells fabric, clothes, shoes and leather goods, but you can find all sorts of goods here.
Traditionally, this was THE night market, open from 1am to 1pm, but now it closes at 5am, so there is no morning coffee here anymore (it opens for lunch, though). And it's featured in Netflix's street food series.
DDP night market
In Dongdaemun, you can also find the Design Plaza (more on that below), which has its own market on Fridays and Saturdays. Here you'll find some of the best food trucks, handmade items, buskers and fashion shows. It's very popular with the younger generation, and it's great fun.
It's part of the network of Bamdokkaebi night markets running from March to October, which originated in Yeouido, so now…
Yeouido – Bamdokkaebi
The Bamdokkaebi Night Market first opened in Yeouido in 2015. It's fairly recent, but it became immediately popular and expanded to 4 locations the year after (including the DDP one above). Its name means something like the market that "opens at night and disappears by morning".
In Yeouido, you'll find many street food, handmade items, and performances. I know it's not Korean, but I had one of the best Pad Thai here!
It's worth a visit even only for the location, as it sits on the South bank of the Han river, and you'll have a nice view from here. In fact, it's where you can most easily see couples and families enjoy the breeze from the river, rest in their camping tents and have BBQ.
Hongdae flea market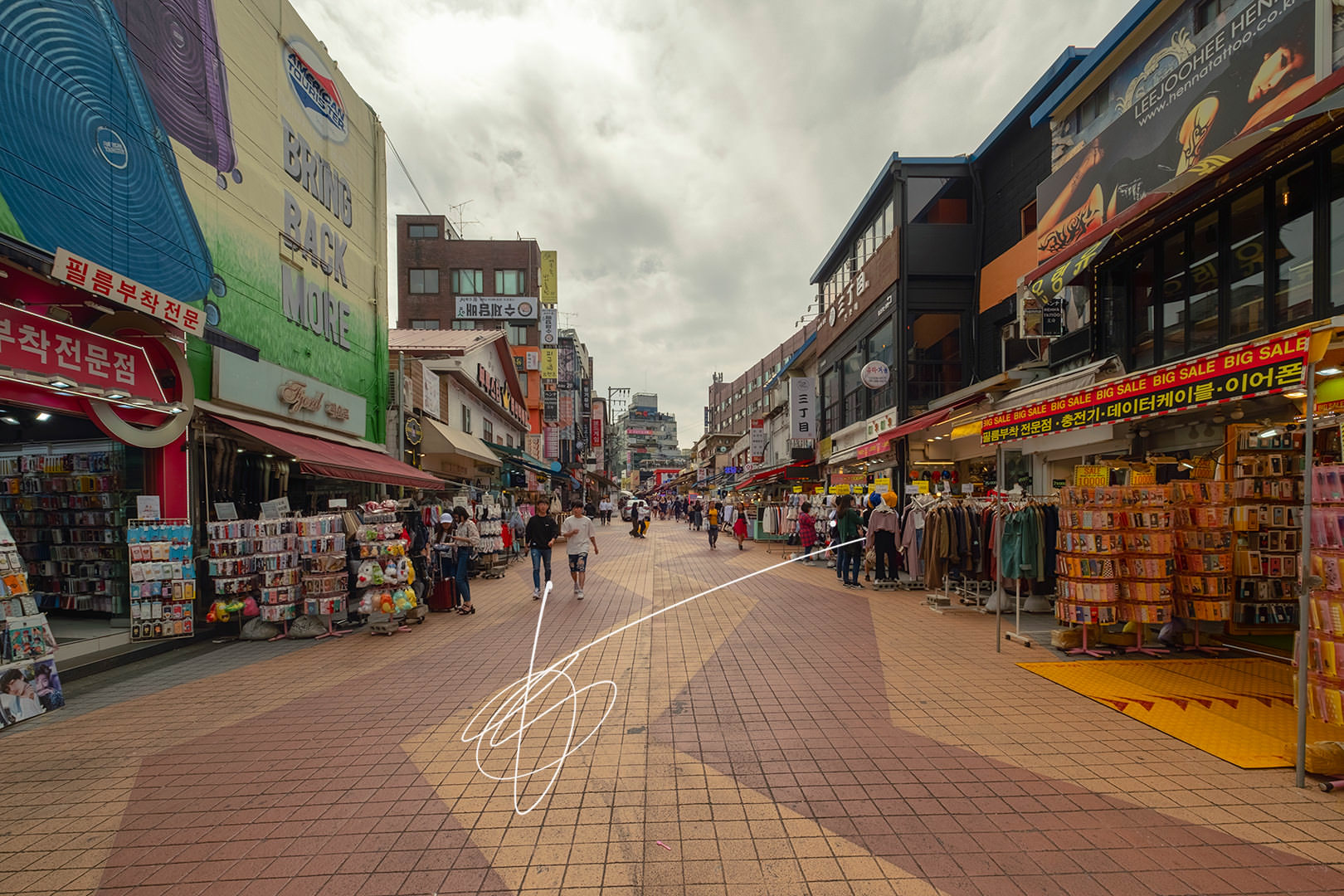 The last one on this list, the Hongdae flea market, is only open on Saturdays from March to November.
Even though it's a flea market, nothing here is second-hand, but it's actually all original and new handmade items. On top of that, you can find artists, performers, and musicians. And what's great is that everybody is keen to spend time presenting their art to the visitors. So you can have long, friendly chats with locals and immerse yourselves more in Korean culture.
In Hongdae, I also found a small Vietnamese restaurant with the best phō I had ever tasted outside of Vietnam. Can't remember the name of the place, though, sorry! It was a tiny spot with only a handful of seats at the bar.
Extra: chilli trade market
I honestly don't know if this is a regular thing, but I accidentally found myself in the middle of it and loved the vibe. Just in front of the city hall, people were buying huuuge bags of chilli, even 3-4 at a time. And it looked to me as if everyone was super busy with the trading.
Nice photo opportunities there!
The 5 Grand Palaces
Gyeongbokgung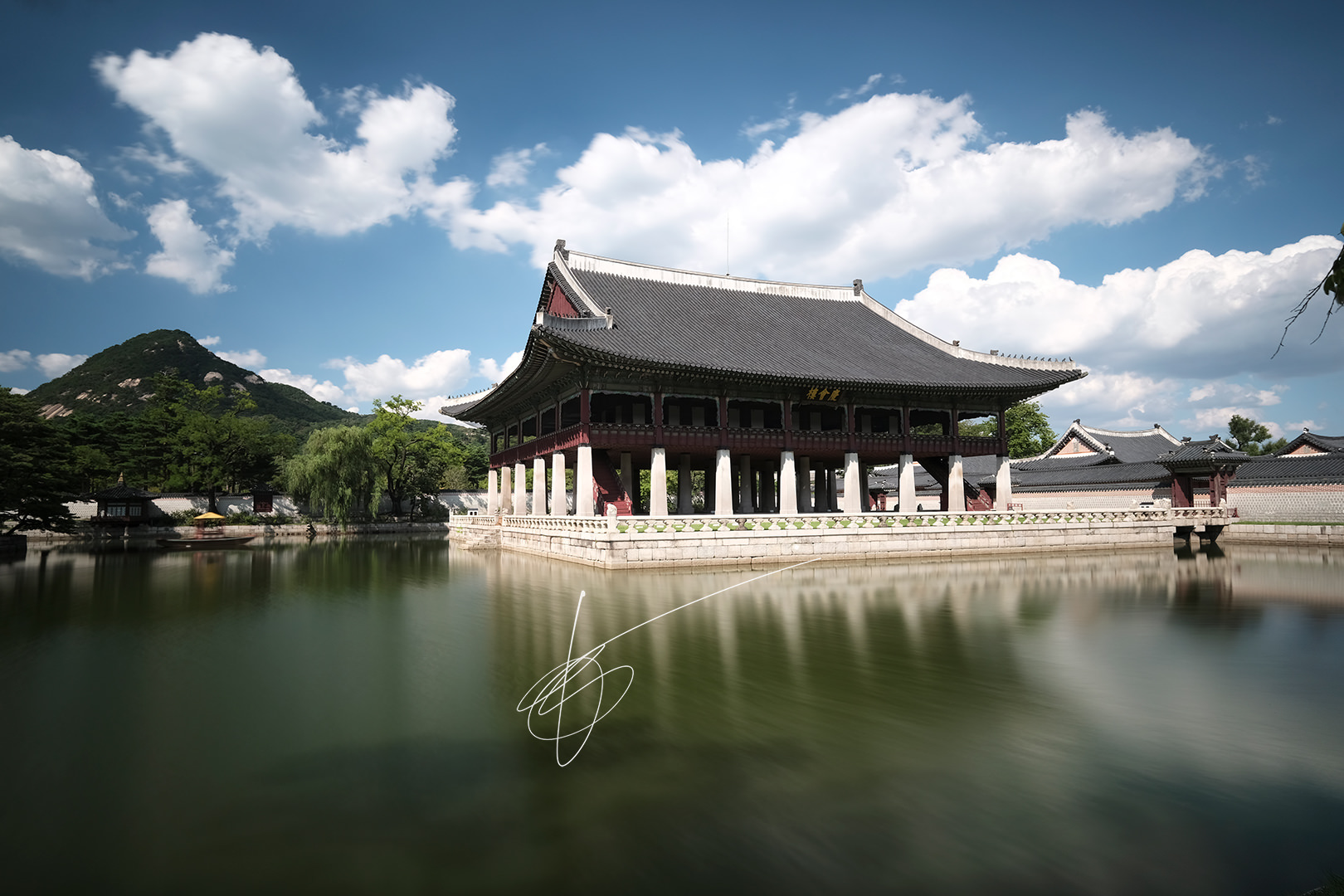 Probably the most impressive of the 5 Seoul palaces. This was the main royal palace of the Joseon dynasty.
Imperial Japan systematically destroyed much of the palace in the early 20th century. Since then, the walled palace complex is gradually being restored to its original form. And today, the palace is arguably regarded as being the most beautiful and grandest of all five palaces. It also houses the National Palace Museum of Korea and the National Folk Museum within the complex's premises.
If you want to read more about it, check the WikiWand page.
Changdeokgung and Changgyeonggung
The two palaces stand back to back, with a gate in the separating wall providing direct access between them.
Changdeokgung is a UNESCO World Heritage Site and was the most favoured palace of many Joseon princes. It retains many elements dating from the Three Kingdoms of Korea period that were not incorporated in Gyeongbokgung. One such element is that the buildings of Changdeokgung blend with the site's natural topography instead of imposing themselves upon it.
This palace also includes the beautiful Huwon ('rear garden'), which now features over 26,000 specimens of a hundred different species of trees. Some of which are over 300 years old.
Changgyeonggung was largely destroyed by the Japanese in the early 20th century and then torn down methodically to make room for a modern park.
Deoksugung and Gyeonghuigung
The last two palaces are much smaller than the above three.
Deoksugung, like the other Palaces in Seoul, was intentionally heavily destroyed during the colonial period of Korea. Currently, only one-third of the structures that were standing before the occupation remains.
Today, it has a modern and western-style garden and fountain. The Changing of the Royal Guard in front of Daehanmun Gate is a popular event for many visitors.
Most of Gyeonghuigung was lost to two fires that broke out in the 19th century, and then the Japanese dismantled what remained during their occupation. In the palace grounds, today are the Seoul Museum of History and The Seoul Museum of Art annexe.
Hanok Villages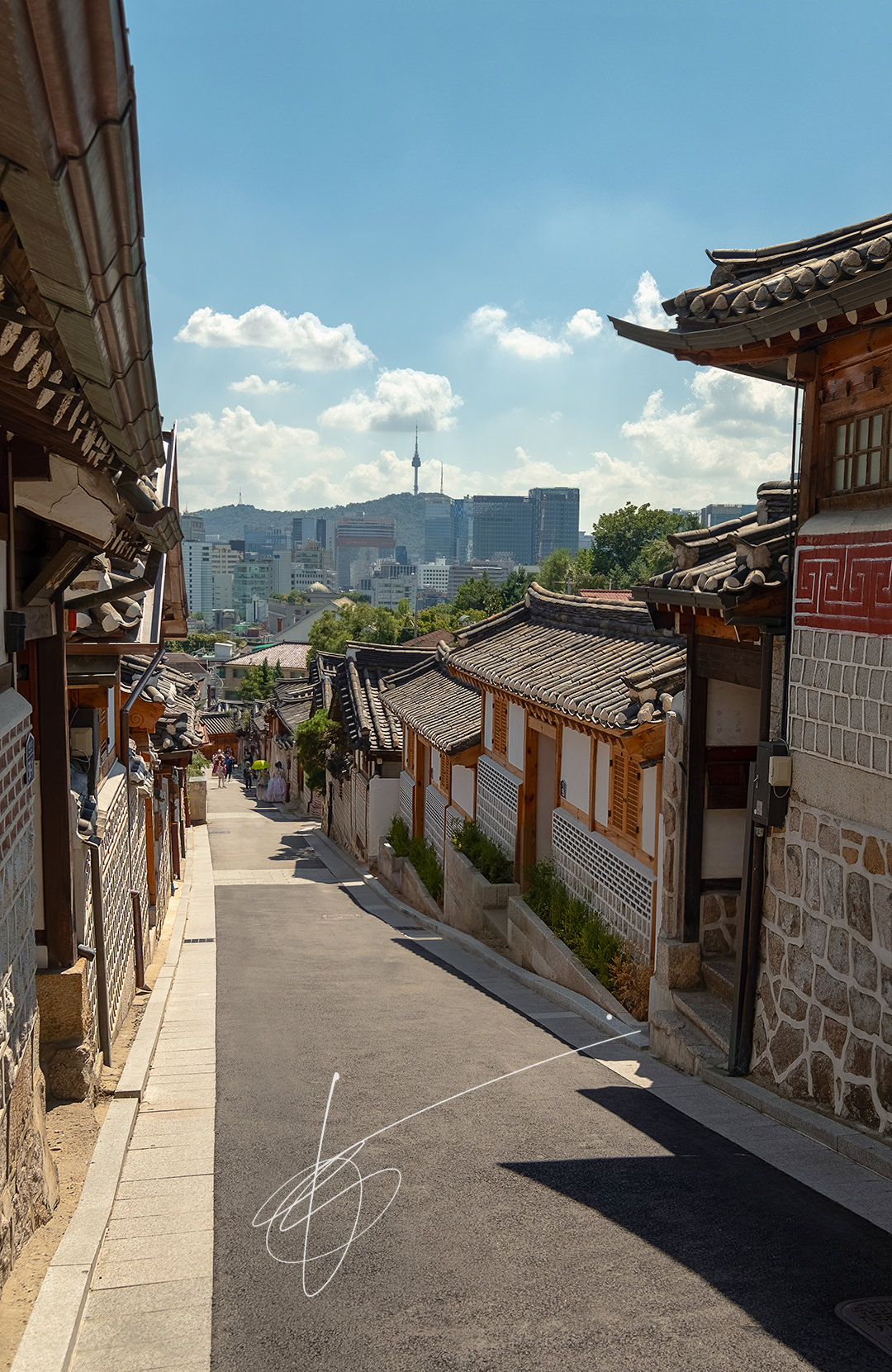 Bukchon
Bukchon Hanok Village is home to hundreds of traditional houses, called hanok, that date back to the Joseon Dynasty. Today, many of these hanoks operate as cultural centres, guesthouses, restaurants and tea houses. They allow visitors to experience, learn and immerse themselves in traditional Korean culture.
It's a very popular spot, so if you're into photography, you might want to get here early in the morning. I'd say for the golden hour at sunrise. And even then, it may not be empty.
Namsangol
Namsangol opened in 1998 on the north side of Namsan Mountain in the capital's heart. This village has five restored traditional Korean houses, a pavilion, a traditional garden, a performing arts stage and a time capsule plaza. This makes it a perfect spot for both locals and tourists to take a leisure walk.
Dongdaemun Design Plaza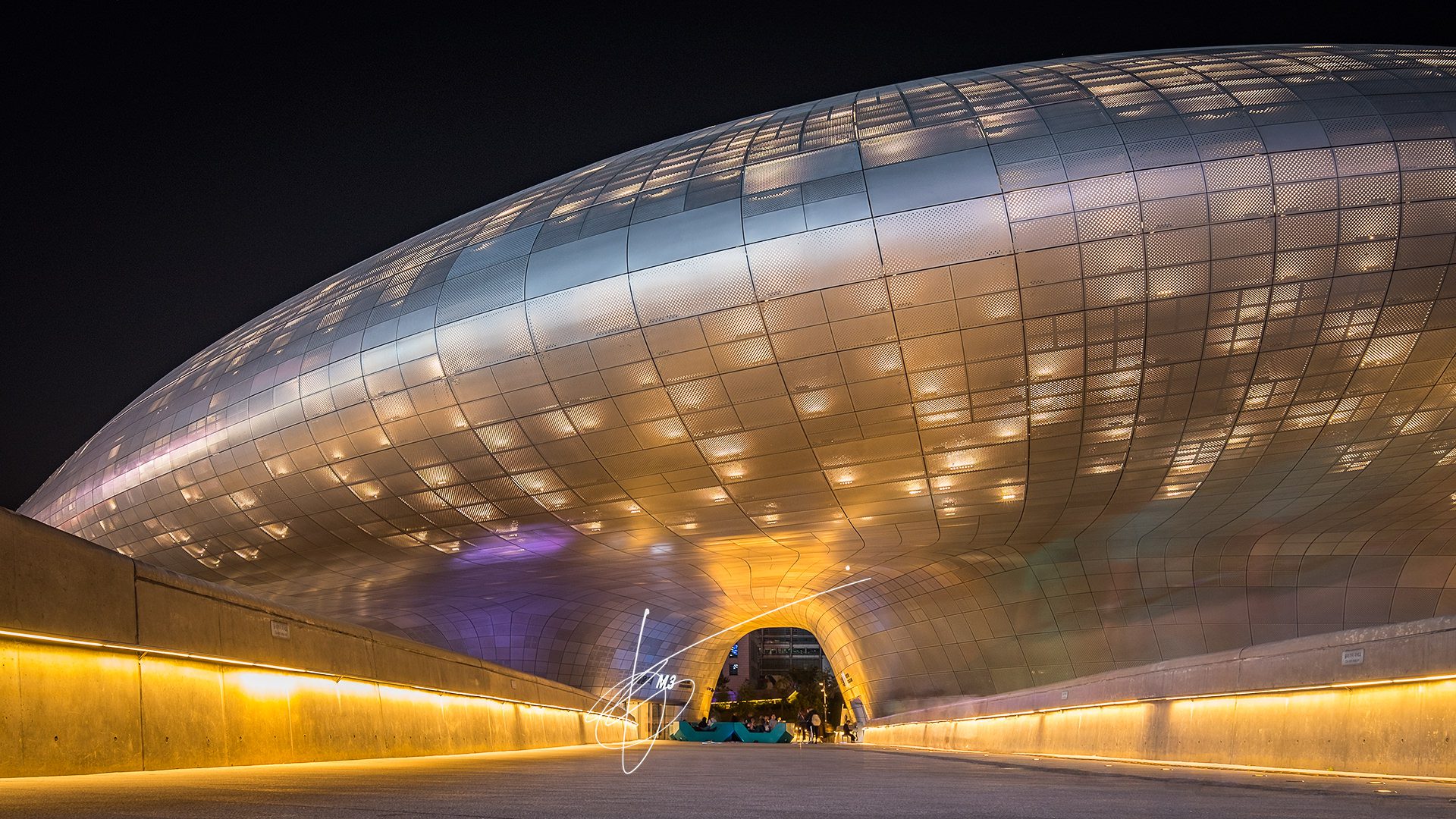 Now for something more modern…
The DDP, or the "spaceship", as I called it in my Instagram story, is a major urban development landmark designed by Zaha Hadid. It is now the centrepiece of South Korea's fashion hub and a popular tourist destination.
The art hall is a launching platform for the Korean creative and cultural industry. And it operates as a pivotal space for conventions, trade shows, exhibitions, fashion shows, concerts, and performances.
As I mentioned above, it also hosts a buzzing night market.
National Museum of Korea
Could I not feature a museum in my Seoul highlights? This is the flagship museum of Korean history and art in South Korea and is the cultural organization that represents Korea. It attracts over 3 million visitors annually, which makes it one of the most visited museums in the world.
This museum will be my best recommendation if you visit Seoul on a rainy day. And it's so big you can easily spend the whole day without visiting it all. Check the official website for info and exhibitions here.
There's also the Museum of Modern and Contemporary Art (MMCA), which didn't have a great exhibition when I went, so I'm leaving this as a side note.
Namsan Park and N Seoul Tower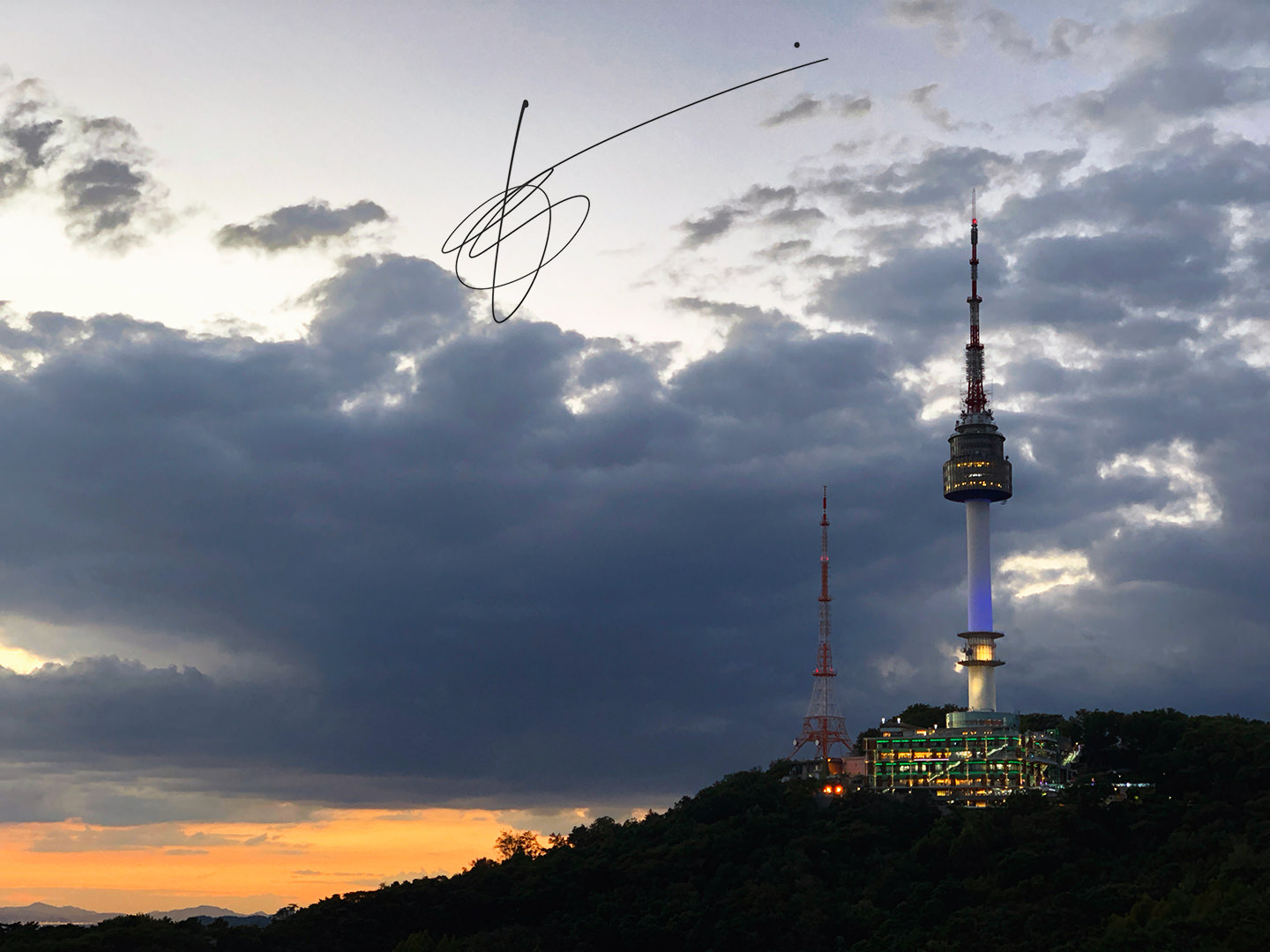 Namsan Park is the public park of the Nam mountain. It's maintained by the city government and has panoramic views of Seoul. Seoulites have a true passion for hiking, so this is a very popular spot among locals, as well as among the tourists going to visit the N Seoul Tower.
Many visitors ride the Namsan cable car up Mt. Namsan to walk to the tower. N Seoul Tower's height reaches 480 metres above sea level and was built exactly 50 years ago. It opened to the public in 1980, after the observatory deck was added.
Today, the N Seoul Tower is divided into three main sections: the N Lobby, N Plaza, and the N Tower. You'll find shops, a revolving restaurant and the observatory deck.
Fun fact: most buildings in Korea avoid having fourth floors, so you'll see the elevator/staircase jump from 3F to 5F.
Moonlight Rainbow Fountain at Banpo Bridge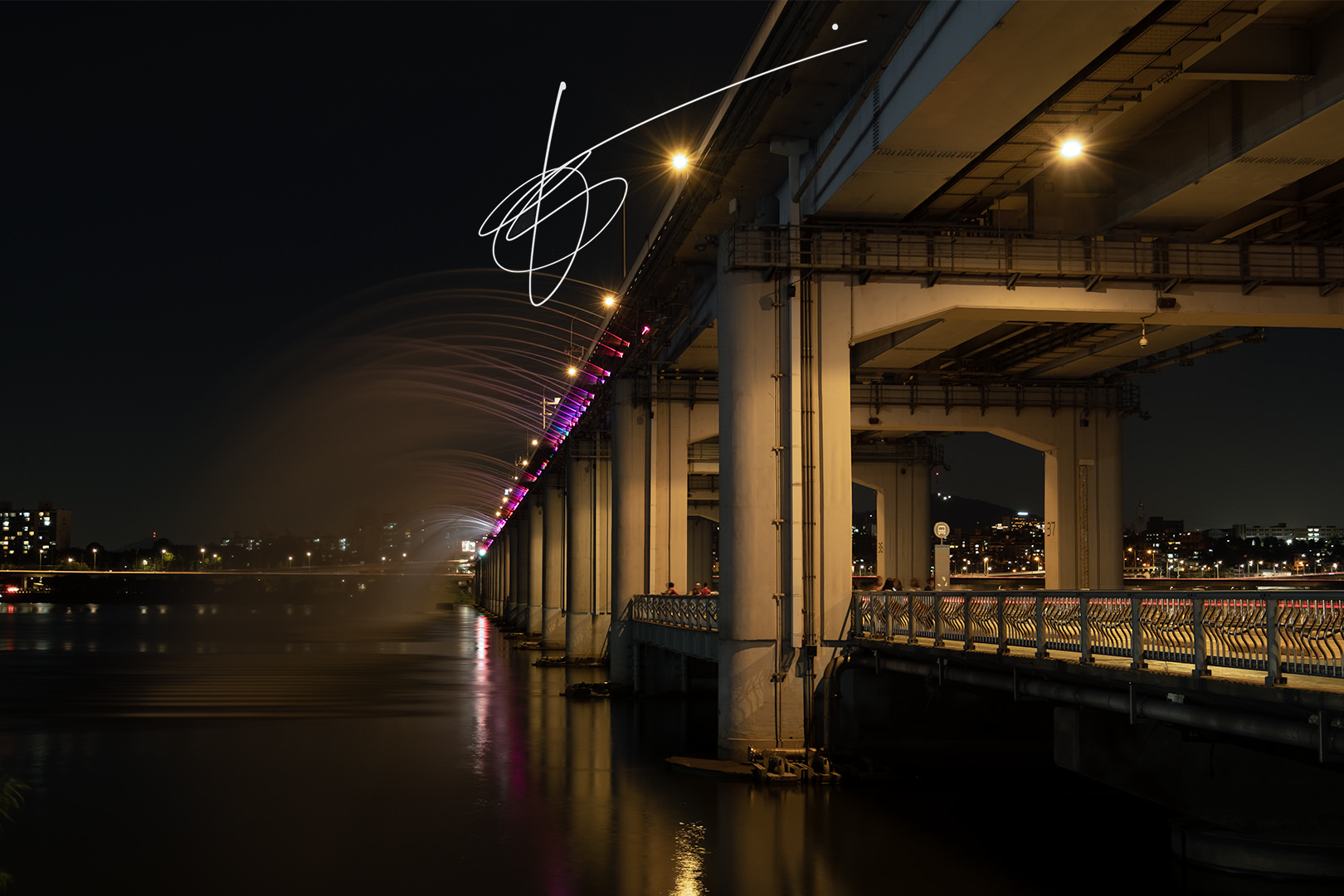 The Moonlight Rainbow Fountain is the world's longest bridge fountain. It set a Guinness World Record with nearly 10,000 LED nozzles along both sides, shooting out 190 tons of water per minute. The show goes on for 20 minutes, 4-6 times a day, depending on the season. And sometimes fireworks are lit as well.
Here I met one of my Instagram friends, @ks_kyung, who was also there taking lots of photos of the bridge
Cheonggyecheon stream
The Cheonggyecheon stream is a gorgeous artificial stream that flows through Seoul. You can spend a hot day strolling alongside the stream and cooling off under the bridges, admiring the architecture along the way.
At night, the stream becomes a hotspot for musicians and displays impressive water light shows.
Camping in the city and outdoor BBQ
Camping culture in South Korea is really big, and people hop on every chance to go out, place a tent and start barbecuing.
Any park along the Han river is a good spot, but Yeouido (see above) is where I found most people. If you make friends in Seoul and want a glimpse of Korean life, you must do this!
---
This is only a list of Seoul highlights from my first-ever visit. There's plenty left to do that I haven't listed here because I either passed through neighbourhoods (like in Gangnam) or didn't really have time to visit (like the Lotte Tower or DMZ).
I focused more on meeting people and spent a lot of time on my own taking photos. Which means I have reasons to go back and see all I missed.
Also, read about my journey to Seoul in Part 1 (with tips and conclusions), then go to Part 3 for a couple day trip ideas.
Now that I tickled your interest with some Seoul highlights, why don't you start looking for your next booking? 😉
If you fancy a £15 discount (or equivalent in your currency) next time you book a hotel on Booking.com, make sure you use this affiliate link: https://www.booking.com/s/35_6/cbe52082