That's right, this morning the brand-new Fujifilm flagship store opened its doors to the public! And of course, I was there queuing!
House Of Photography is what Fujifilm calls this new "experiential concept store". And they indeed offer all sorts of services to make you feel at home.
But let's start from the beginning…
The Long Wait
Historically, Fujifilm UK has never been a big player on social media.
There seems to be a positive change on this front, though. And the past few weeks have seen an increase in content. And Fujifilm ran a good promotion before this grand opening.
The first 100 visitors queueing outside of the Fujifilm flagship store were hoping to be among the 5 lucky winners of an X-A7 camera. OK, maybe it's not the camera everybody wishes for, but still very good and a pretty generous 600 quid gift.
3 hours before the opening, the first 100 were already there in the cold (me included)!
We all received a goodie bag including an Instax product (the instant camera), a cute Fujifilm X-T3 USB stick, a branded coffee tumbler and a pencil. And coffee while we were waiting!
But I haven't been lucky. I didn't get the X-A7, and my Instax product was the cheapest of the lot. But the worst part, to me at least, is that it's PINK!
Well, it's still a free Instax, right?
I saw one of the winners, and he was the guy who spent the time in the queue taking pictures with his Sony camera. So unfair.
Anyway, at 11 sharp, I got in!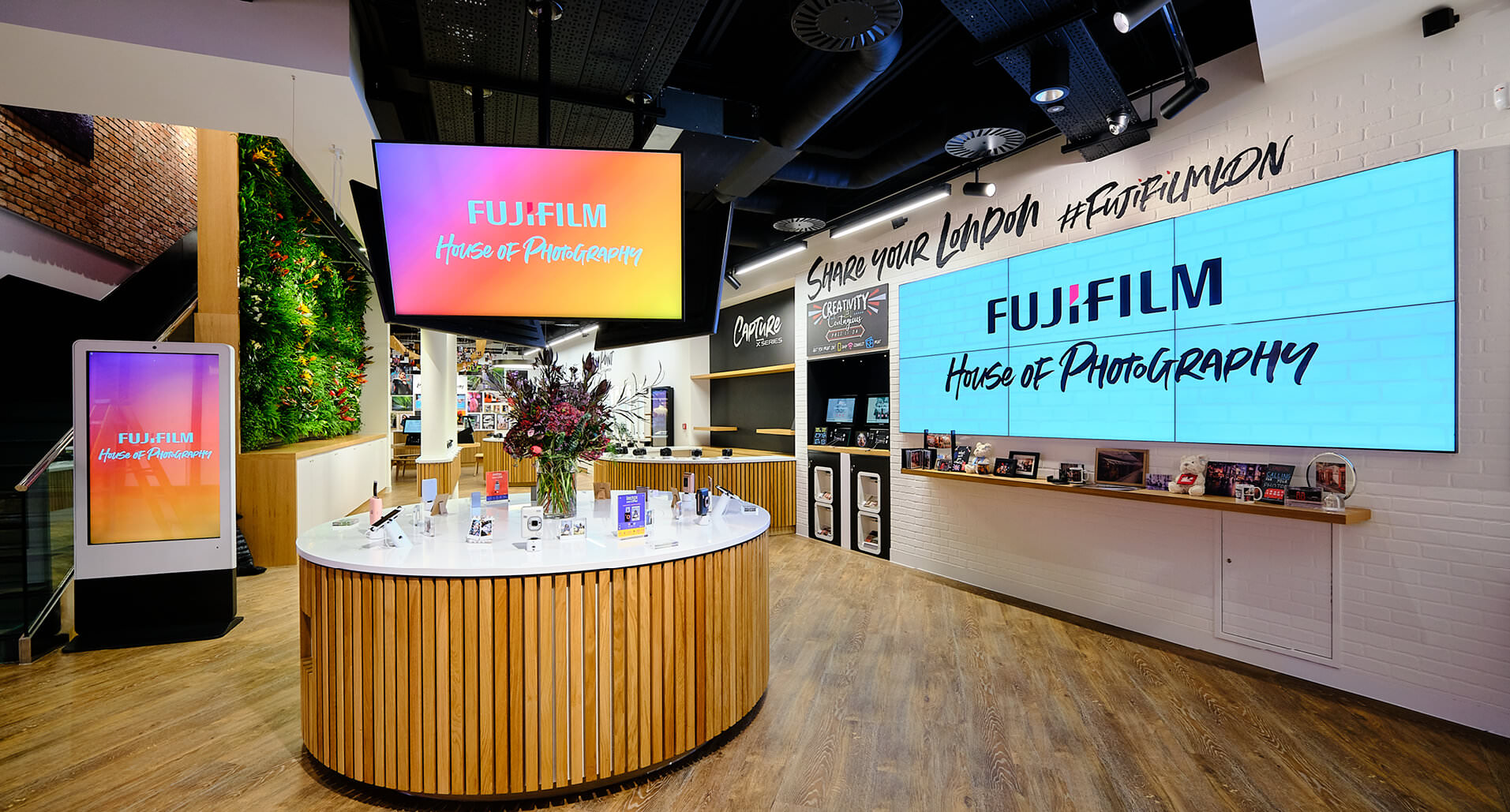 The Store
I must say I like this new Fujifilm flagship store (by the way, it has a website and a so-so app).
It's not as big as it would have been in the US and it can be hard to move around when packed, like today. But it has plenty of creative spaces that are very enjoyable.
There is a chilling room downstairs with seats, possibly where you'll be able to have a coffee and discuss. There is a professional studio that you can book. A vlogging/blogging space with props that would make for a nice background. A gallery which is currently featuring an amazing series of photos of David Bowie by Markus Klinko. And, of course, the store, with every Fujifilm product on display, most of which can be tried on the spot.
There's also a LEGO version of Mount Fuji with a running Shinkansen bullet train under it!
I don't particularly enjoy the massive crowds, and I was a bit gutted about the pink Instax (!!!), so I didn't stay long today. But I'll definitely go back to explore and interact more.
The Interesting Bits
It's worth noting a couple things…
The small David Bowie exhibition is not to be missed. Congrats to Klinko for the beautiful work.
You can now book your Fujifilm camera and lens rentals directly from the source. I mean, they still rely on Hireacamera for that, but you can pick up and return Fuji equipment at the Fuji shop.
I mentioned the studio: it's a fully equipped professional studio and can be booked for a full day or just half. Not for cheap, though.
There are workshops and sessions in-store. Although, for now, they're very basic and not aimed at professional photographers.
I'm curious to see if this new Fujifilm flagship store will generate enough professionals' attention to drive the focus towards high-end products rather than the Instax family. The instant camera models seem to be the best-selling product in the UK. Still, Fujifilm as a company has always put the professionals' needs before marketing, and I think this is not always obvious in this country.
Time will tell.