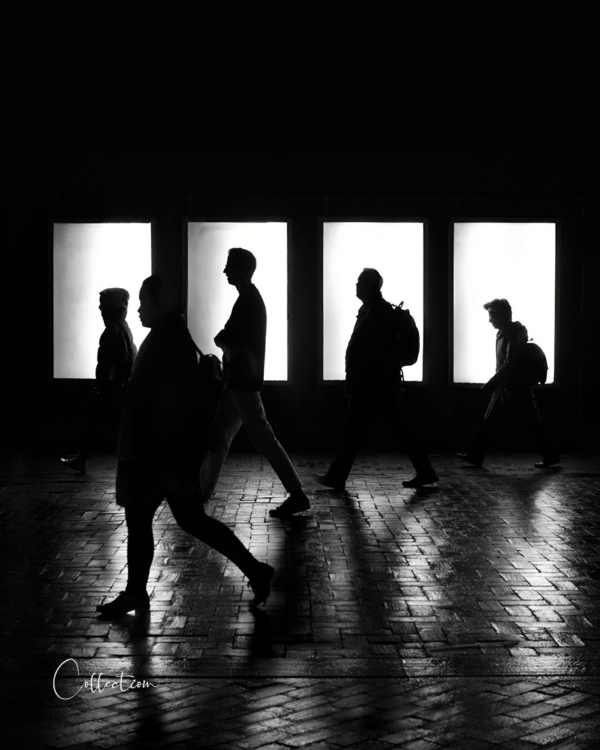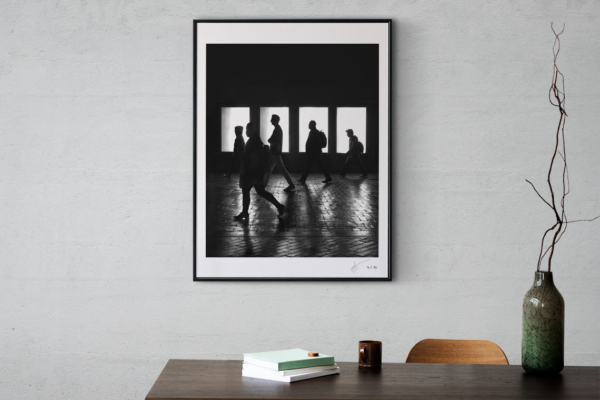 In stock
B&W Photographer of the Year 2023
£97,00 – £377,00
If you wish to hang award-winning photos on your wall, here is my Collection series for you.
Photos exhibited and published all over the world, awarded prestigious titles. Also available in limited editions, in large size and/or with premium framing, with Certificate of Authenticity.
---
"The Commuters"
The photo that earned me the main feature at the Black and White Photographer Of The Year exhibition in London. It can be viewed at the Coningsby Gallery in early June 2023.
This image was also exhibited at the Matca Gallery in Hanoi, Vietnam, for my first-ever feature in Asia.
The photo was taken at high ISO, 6400, and it's now a truly unique, unrepeatable shot. It was already a rare chance because those four rectangular lights usually display movie posters, and I found them empty. Probably, just moments before new posters were placed. But now those four frames have been replaced with a single large one with LED lights, so there is no way to take this photo again, with the isolated subjects in their own white frames.
Sometimes it's just the luck of being in the right place at the right time.
---
Available in 9 different variants:
126x155cm (49.6x61in), signed Collector Edition w/ Certificate Of Authenticity (27pcs) unframed
94x115cm (37×45.3in), Gallery Edition w/ Certificate Of Authenticity (77pcs) unframed
59x84cm (23.4×33.1in, A1), Deluxe Edition w/ Certificate Of Authenticity (97pcs) black frame
42x59cm (16.5×23.4in, A2), black frame or unframed
30x42cm (11.7×16.5in, A3), black frame or unframed
21x30cm (8.3×11.7in, A4), black frame or unframed
Bespoke solutions can be made available, contact me to discuss.
Please note that the print has a white border around it (included in the measurements).
Free shipping worldwide.
Print Quality

Additional information

Reviews (0)

Printed on C-Type Fuji Pearl
The Fuji Crystal Archive Pearl paper has a rich metallic base. The colours have a reflective, metallic and 3-dimensional feel, creating a distinctive pearl-like appearance.
Its high mid-tones & highlights add luminosity and iridescence, which lends this paper to artworks that want to accentuate warmth and depth of colour.
---
Weight: 242 gsm
Finish: Medium Gloss
Paper Tone: Slight silver metallic
Texture: Smooth
| | |
| --- | --- |
| Dimensions | N/A |
| Size | 126 x 155 cm, 49.6 x 61.0 in, 94 x 115 cm, 37.0 x 45.3 in, 59 x 84 cm, 23.4 x 33.1 in (A1), 42 x 59 cm, 16.5 x 23.4 in (A2), 30 x 42 cm, 11.7 x 16.5 in (A3), 21 x 30 cm, 8.3 x 11.7 in (A4) |
| Frame | Unframed (print only), Black frame |
Only logged in customers who have purchased this product may leave a review.