Last night was the first time I went out to photograph London's New Year fireworks. In previous years, either I was not even in London or I decided to enjoy a better view and no waiting in the cold from the comfort of my sofa.
But not last night.
I teamed with my friend Martyn to go out and scout for a place South of London. The main idea was to find an elevated viewpoint with enough clear view of the city.
That's because unless you are an accredited photographer it's impossible to get close to the event venue with a tripod. And a tripod is a kind of the necessary equipment to shoot fireworks.
But hey, people of the media, I'm happy to do it officially next year if you allow me! 😉
So we ventured to find a place, a few hours before Midnight. And we went through several tiring steep roads before finding a good enough spot.
We thought another one could have been more viable, but it was so muddy we couldn't guarantee a tripod would be stable.
We were also lucky because the place stayed pretty quiet. Even moments before the London New Year fireworks display, most passers-by were more attracted to other spots nearby. No complains with that, of course!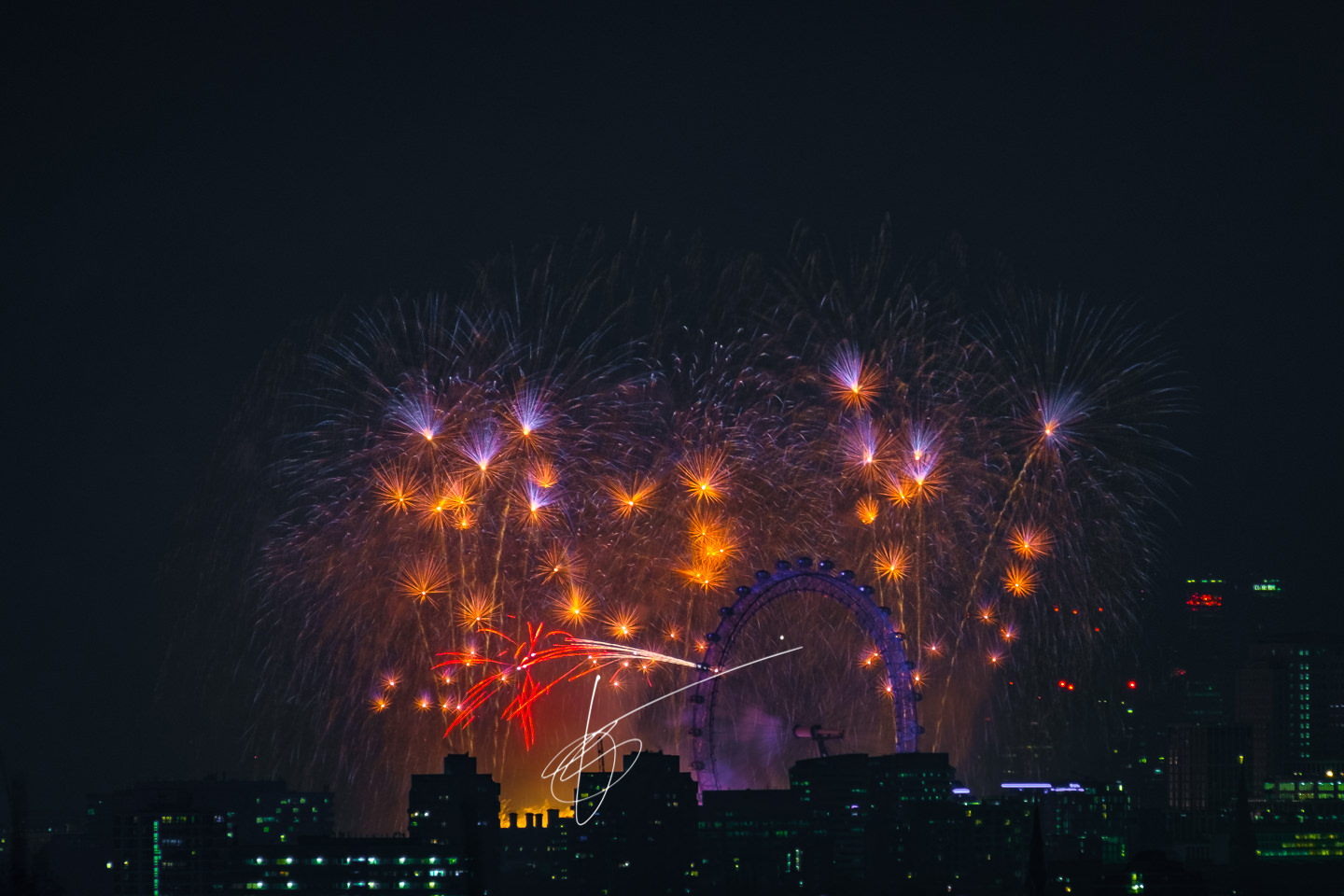 Photographing fireworks
Let's digress into the technical part for a moment. I said tripods are quite essential, that's because you would need to shoot a long exposure to capture the fireworks.
As you do for landscape/cityscape shots, you want to keep your ISO to a minimum. So you'll need to increase the other values.
Aperture can be anything between f/5.6 and f/11. You could go wider or narrower, but you would move away from most lenses's sharpness "sweet spot". Maybe go as high as f/13 if your composition includes lights like lampposts and you want a starburst effect there. Of course, keep in mind that when the fireworks start your scene will be brighter than when you arrived.
I find that with my Fujifilm X-T2 the best options are between f/5.6 and f/8.
And then there's the shutter speed. Now, there's not a one-setting-fits-all-situations here. In general, something between 4" and 8" is considered common sense. But you need to adapt to your situation. During London New Year fireworks, everything happens so fast there is no relax. So you could shoot continuously and get a shot with action every time. You might even have a chance to get a good handheld shot.
In other places, where the action is slower, you might be better off using the BULB mode of your camera. Press the trigger (ideally using a remote controller) when the fireworks take off and leave it on until you fill your frame with action.
The photos you see here are all shot at ISO200, f/5.6, 5 sec.
Photo gallery
Apparently, those who paid a ticket to get in front of the London Eye were quite disappointed in the end. Because the wind blew all the smoke towards them and obscured London New Year fireworks.
You can have a look at my friend Yuki's IGTV video to see for your yourself. She was one of the accredited photographers and had the best view from the front: @the_yukistar.
Martyn and I had a pretty clear view. We were behind the action so we didn't see any smoke at all. Sure, we were over 8km away so we needed long telephoto lenses, but the view was clear.
Here are some of my shots from the event.
The show lasted only 10 minutes but was very intense, as usual.
And I was really happy to be out there photographing London New Year fireworks display.
Now, on with the new year!
Happy 2020 everyone!